The WiRED VTP Curriculum
Curriculum (based on WHO guidelines):
Module 1: Introduction to COVID-19 vaccination training. This module offers an introduction to the course, whose objective is to provide key information on COVID-19 vaccination to community health workers.
Module 2: Storage, handling, delivery, and waste management of COVID-19 vaccines. This module consists of three sections, which provide knowledge about the programmatic implications of COVID-19 vaccines; managing storage, transport and delivery of COVID-19 vaccines; and cold-chain management at the vaccination post and waste management at the facility level.
Module 3: Organizing COVID-19 vaccination sessions. This module explains how to: outline infection prevention and control measures during vaccination sessions to protect health workers, vaccine recipients, and the community; prepare for vaccination sessions according to infection prevention and control protocols (at the health facility, for outreach and for a campaign); and outline the process of safe COVID-19 vaccine administration and waste disposal.
Module 4: Vaccinating process and procedures. This module explains the steps on how to: administer an intramuscular injection; prepare the equipment; prepare single- and multi-dose vials; position the patient correctly; and dispose of waste appropriately.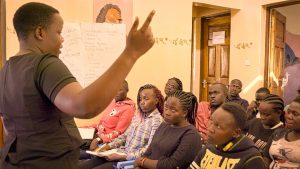 Module 5: AEFI monitoring for COVID-19 vaccination. This module describes how to: detect an adverse event following immunization (AEFI); identify and respond to AEFI; and report AEFI following COVID-19 vaccination.
Module 6: Recording and monitoring COVID-19 vaccination. This module describes the importance of proper recording and reporting; how to recognize recording and registration forms; how to correctly record vaccination data and register vaccinations in the reporting forms; and how to track defaulters (if applicable).
Module 7: Communication with the community about COVID-19 vaccination. This module describes community health workers' roles and responsibilities for COVID-19 vaccination; demonstrates effective and individualized communications about COVID-19 vaccination; explains communication strategies for three potential scenarios with community members; and outlines the role of a vaccinator in crisis communication for adverse events following immunization.
Supplemental Training
Anatomy Fundamentals, 2 parts. This two-part module provides an understanding of anatomy and physiology, which together comprise the structure and functions of the human body, and describes the major body systems and their components. Also discusses the body's major systems: the nervous system, the respiratory system, the digestive system, the urinary system, the endocrine system, the lymphatic system and the male and female reproductive systems.
Understanding Communicable Diseases, 2 parts. This two-part module presents an overview of infection control, preparedness and modes of transmission, and discusses the role of CHWs in addressing infectious diseases.
Coronavirus. The module offers a general introduction to the new coronavirus (COVID-19) and describes the infection and its close relationship to other coronaviruses, how it is spread, its incubation period and symptoms, treatment and most important — its prevention.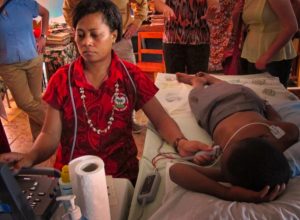 Understanding Vital Signs and Basic Assessment of the Systems. This module examines basic procedures for taking vital signs, including temperature, pulse rate, blood pressure and respiration rate. It offers "how-to" information and explains how each measure relates to health assessment.
Communication Skills. This module covers interpersonal and group communication, persuasion, relationship building, message development and other skills necessary to CHWs as communicators.
Notes:
For each vaccine approved by WHO and other appropriate health agencies, WiRED will offer a separate module to describe specific storage requirements, vaccine preparation and all other relevant details of that vaccine.
WiRED's physicians and nurses wrote Module 4, an addition to the WHO curriculum.