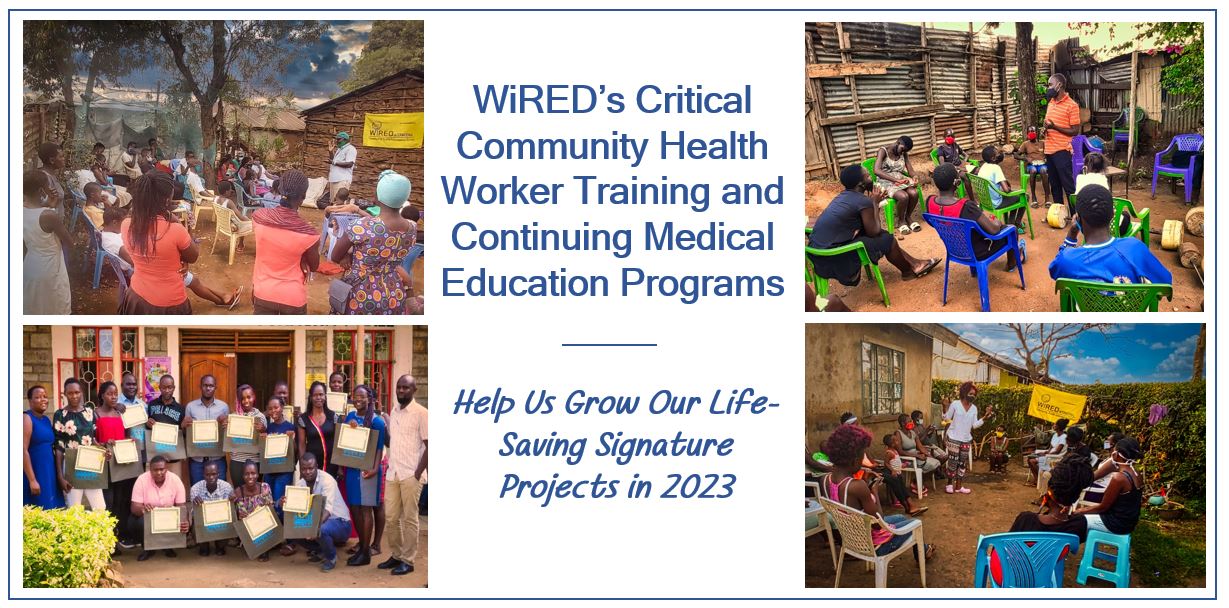 By Allison Kozicharow; Edited by Staff
As WiRED's volunteers continue to celebrate our 25th year, we ask you to join us with your support to sustain and grow the delivery of crucial health education to low-resource regions of the world.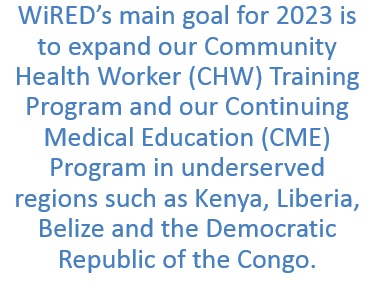 WiRED's main goal for 2023 is to expand our Community Health Worker (CHW) Training Program and our Continuing Medical Education (CME) Program in underserved regions such as Kenya, Liberia, Belize and the Democratic Republic of the Congo. CHWs are becoming increasingly critical in places where doctors and nurses are scarce and where the burden of disease is growing. WiRED's World Health Organization-compliant curriculum prepares CHWs and widens their skills through a required CME program.
Our work in Kisumu, Kenya, during the past year demonstrates the value of training CHWs in regions without access to adequate health care. The remarkable achievements of WiRED CHWs offer proof of concept: Last month WiRED's newly expanded paraprofessional squad of 22 CHWs reached a total of 12,268 people with health services — almost doubling the 6,538 people that CHWs assisted last month.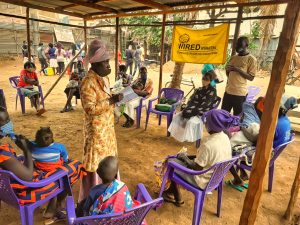 What does this mean at the community level? More than 12,000 people have had direct contact with a CHW either to address a health issue or to learn about disease prevention. Without CHWs, all these people may have had to deal with a health matter without assistance from a knowledgeable healthworker or been unaware of good health practices that can head off sickness in adults and children. 
In addition to ramping up our CHW and CME training programs, WiRED will continue to create accurate, reliable and effective health education on topics for the general public. We also will escalate our information delivery systems that can distribute WiRED's training courses anywhere on earth.
We value your support and, because our volunteers contribute thousands of work hours, we can direct 93% of your donation directly into our programs and materials. Your generosity will enable WiRED to boost our vital work to train CHWs to provide health care and education to community members and especially to women and children, who are among the world's most vulnerable people.
Here's how to donate: