WiRED International's 25th Anniversary Magazine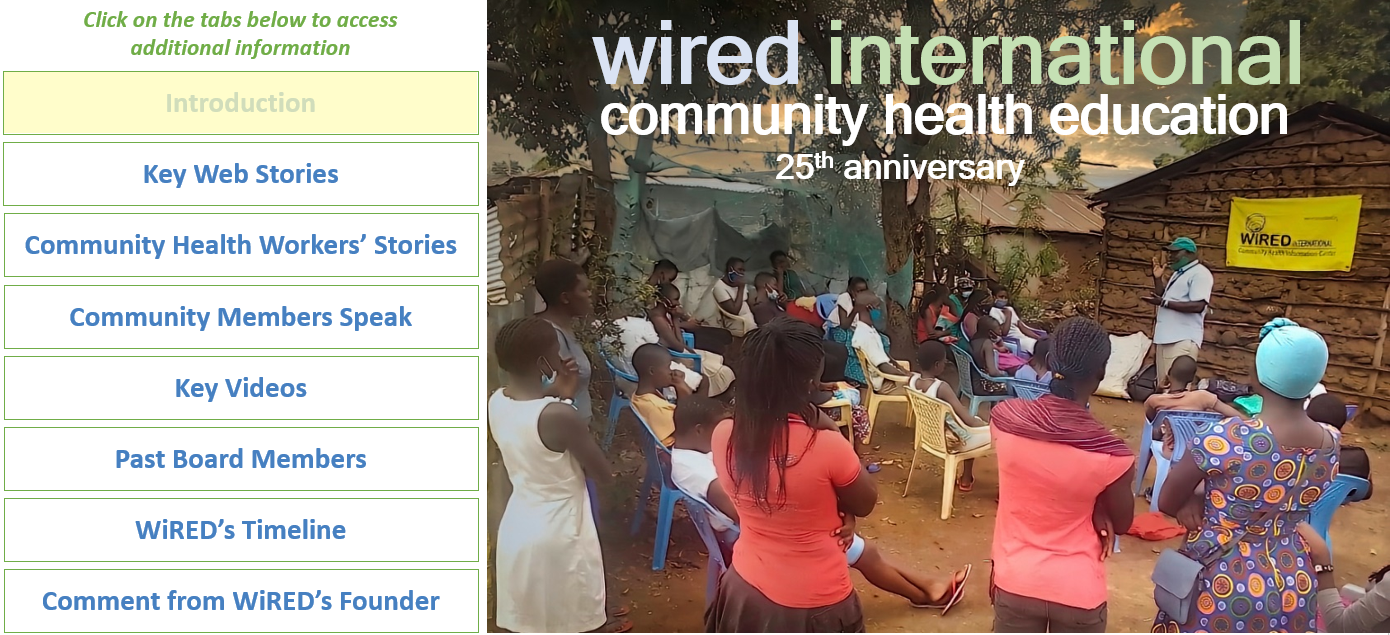 A Celebration of Two and a Half Decades of Service in Low-Resource Countries
By Allison Kozicharow
Twenty-five years. A long time for a small nonprofit to not only survive but thrive.
To mark our milestone anniversary WiRED International is pleased to present an e-magazine to sum up our work to elevate health in underserved communities globally.
To illustrate WiRED's contributions to community health, we organized our magazine into the following sections:
Key Web Stories
Community Health Workers' Stories/Community Members Speak
Key Videos
Past Board Members
WiRED's Timeline
Comment from WiRED's Founder
The common denominator throughout all our work is prevention through knowledge. As WiRED Executive Director Gary Selnow, Ph.D., said, "Health education isn't as dramatic as a daring rescue, but it saves countless lives. Prevention is a grand bargain."
Teaching people about health enables them to become participants in their own health care. (See the sidebar for telling statistics from WiRED's community health workers in Kenya.) When they learn about health issues they can recognize early signs and symptoms of illness and disease and understand how to maintain healthy habits. Individuals who engage in better health behaviors promote the health and well-being of entire communities.
WiRED invites you to read through the sections of our magazine and celebrate our 25th Anniversary with us! Just click on the buttons above to navigate through the magazine.
By the Numbers: WiRED Community Health Workers in Kisumu, Kenya
WiRED began deploying our trained community health workers (CHWs) in March 2021 in the midst of the COVID-19 pandemic. Our 12-member paraprofessional team reached 50,348 people with health services during that year. In 2022 from January through November that figure grew to 74,818 with the addition of a second team of 11 CHWs deployed starting in October. WiRED projects that in 2023 that yearly number will climb to more than 120,000! 
On a personal note, my late father, Richard Gilbert, was a founding member of WiRED. He asked me early on to volunteer for WiRED, first as an editor then as a writer for the stories on the website. When my father left WiRED's Board to enjoy an emeritus status, I joined the Board in June 2010. After his death in January 2011 I wanted to honor him by stepping up my work with WiRED. Now more than 10 years later I feel privileged to have witnessed and written about WiRED's extraordinary evolution and proven success in raising health standards around the world.