By Allison Kozicharow; Edited by Elizabeth Fine
WiRED International is pleased to report the donation of an X-ray machine and a TrueNat molecular tuberculosis testing machine to the KUAP-Pandipieri clinic in Kisumu, Kenya, where WiRED community health workers (CHWs) are headquartered. The gift resulted from a partnership between the Kenyan Ministry of Health and the Kenya AIDS Response Programme.
Kisumu WiRED Program Coordinator Lillian Dajoh said:
The two machines are portable and can be carried to the field to help CHWs reach out to isolated community members. The TB screening of patients is free of charge, and WIRED CHWs are helping in mobilizing community members for testing. After educating community members about TB using WiRED's training modules, the CHWs refer the suspected cases for screening and testing at the KUAP-Pandipieri clinic. Those who are TB positive are given drugs for six months free of charge, courtesy of the Kenya Ministry of Health.
In other CHW news, WiRED reports that during the month of July 2022, 12 community health workers in Kisumu, Kenya, reached a total of 6,185 people with health services, an increase of almost 1,800 from June. Working 24 hours per week, each of the CHWs met with at least 63 patients a week, and the largest number seen in a week by a single CHW was 196, most of them in health training classes.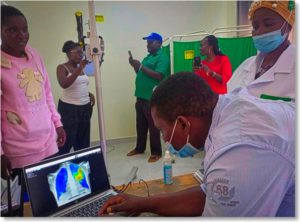 Overall, the top health issues among many for the month of June were as follows in order of prevalence:
Malaria
COVID-19
HIV-AIDS
Cholera
Cancer
Hypertension
Making water safe to drink
Reproductive issues
(Note that one CHW reported monkeypox as an issue, the first mention in CHW monthly reports.)
In the past few days, the WiRED team opened the doors to a new CHW room, where the CHWs can study, write reports and bring in clients for further training on an illness or procedure. They also use it for their weekly meetings. WiRED outfitted the room (including two new desktops with monitors) and KUAP-Pandipieri donates the space.
With the new space and the new TB diagnostic equipment, CHWs are readier than ever to elevate the health of their community.
Tuberculosis — A Collaborative CHW Essay
Coordinated by WiRED Program Coordinator Lillian Dajoh and CHW Daniel Ayieko
During July we community health workers were introduced to a new X-ray machine designed to test people showing signs and symptoms of tuberculosis.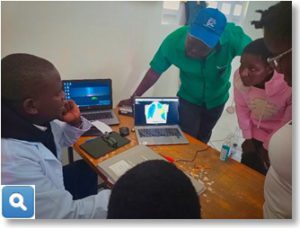 In the past if we suspected a case of TB we had to refer the person to outside health facilities to be tested, but because of the new equipment we can test patients at the KUAP-Pandipieri clinic. Clients who test positive are given drugs for six months and then the WiRED community health workers follow up on them.
The portability of the TB machine enables us to move it from one place to another for screening of patients. This feature has led to an increase in the number of people being tested and treated for TB and, therefore, an improvement in service delivery.
The machine can produce instant results, so clients don't have to wait for a long period of time to get diagnosed. Clients with suspected symptoms have become motivated to get tested and to seek treatment.
Our training by WiRED and our daily efforts in the community have built a strong sense of trust in our skills among the people in our community.
A Comment about CHWs from WiRED's Executive Director
Readers who follow our monthly reports are familiar with how WiRED-trained community health workers (CHWs) provide basic clinical services and health training programs in Kisumu. Their contributions during the past two and a half years have been extraordinary, especially given the many health challenges imposed by the pandemic. With doctors and nurses sidelined by COVID-19, the CHWs eagerly stepped in when their community most needed them.
Today's story about the new TB diagnostic equipment demonstrates the remarkable adaptability and skills of these CHWs. TB infections afflict populations across Africa; this new machine can be a lifesaver in Kisumu. But the equipment cannot be effective without CHWs, who every day work one-on-one with community members.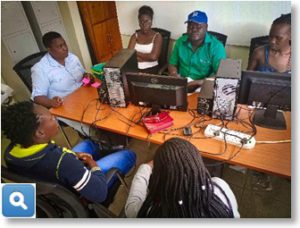 Consider that last month 12 CHWs engaged directly with more than 6,000 people. CHWs, thoroughly trained in infectious disease surveillance, will monitor the community and refer people with symptoms for further diagnosis. Such early intervention is necessary to prevent serious and deadly TB outbreaks.
We have long been proud of our CHWs in Kisumu. Their integral role now in TB surveillance elevates even further their important work in advancing community health.
— Gary Selnow, Ph.D.