Highlighting WiRED's Community Health Worker Training Program
By: Allison Kozicharow; Edited by Jessie Crowdy
WiRED's Signature Health Program
Amidst the COVID-19 pandemic in 2020, WiRED International is pleased to have achieved many goals, especially the launch of our life-saving Community Health Worker (CHW) Training Program in four countries — our largest and most ambitious project to date and several years in the making. CHWs fill in the gaps in low-resource regions where doctors and nurses are scarce, and provide a critical link between the medical community and populations in desperate need of clinical services and prevention training.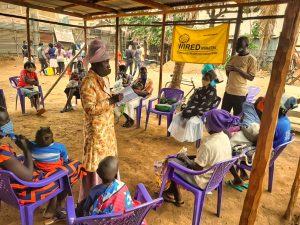 WiRED began program testing in Kisumu, Kenya, and then in India, Nicaragua and Peru — both in person and online. A special training segment, written by our medical team, prepared CHWs to address the preventive measures appropriate to reduce the spread of the COVID-19 virus.
In Kenya, our CHWs are now deployed to provide a range of services in underserved communities, addressing not only COVID-19 infections but also a wide range of other health issues that continue amidst the pandemic.
The work in Kenya demonstrates the value of preparing CHWs in regions where underserved communities would otherwise be left unaided to heal the sick, deliver children and address infectious and noninfectious illnesses. WiRED's first team of 15 CHWs address the needs of more than 6,000 people each month.
WiRED's Coronavirus Threat Module Package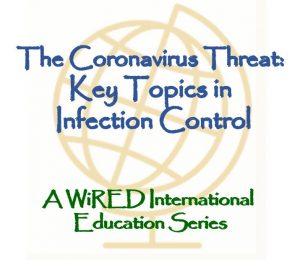 WiRED created its first coronavirus module back in January; a month later we expanded it into a multi-module series, Key Topics in Infection Control. In addition to offering a general introduction to COVID-19 and other coronaviruses, this series covers the immune system, airborne diseases, infection control, handwashing, pneumonia and influenza. The training modules are evidence-based, doctor-written, peer-reviewed and endorsed by physicians, educators and other health professionals. They are especially useful for online use by educators and organizations, and like all WiRED health training material, the modules in this series are offered globally at no cost.
New in 2020: WiRED Documentary, Video, Brochure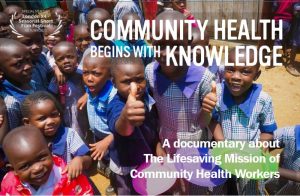 This year WiRED released a documentary, Community Health Begins with Knowledge, shot in Kisumu, Kenya, which tells the compelling story of the lifesaving mission of our CHWs. The film shows why and how CHWs are trained and demonstrates some of the services they provide to needy populations.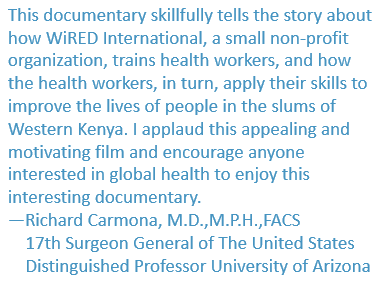 We also produced a short video to describe the CHW program. The video's opening words set the tone: "The coronavirus has crushed healthcare systems around the world. And it's especially cruel in the poorest regions, where there are fewer than one doctor for 20,000 people. In these places, officials are calling on community health workers to help the sick and teach people how to avoid contracting the virus…"
WiRED also created a CHW program brochure, which provides details of the WiRED training project for CHWs, a paraprofessional corps of local people with proven success in providing a host of services that elevate the health of their communities.
Sunshine-Mitzvah Fund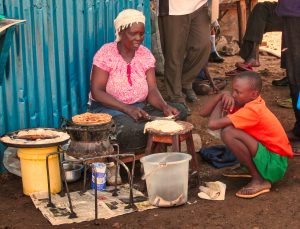 For years, WiRED has collected small amounts of money from Board members and friends for what we call the Sunshine-Mitzvah Fund. Sister Bernadette Nealon and her staff at several clinical centers in Kisumu, Kenya, who use WiRED's health education programs, have, with these funds, covered small necessities needed by the local population. For instance, they cover medications, food for hungry children and rides to a hospital for the sick who would otherwise have to walk.
This December, members of the WiRED International community contributed "lunch money" so that the Sunshine-Mitzvah Fund could feed a starving community hit by crop failure, famine, flood, locusts and COVID-19. Donations reached more than $4,000 and enabled Sr. Bernadette and her team to purchase groceries and Christmas treats for more than 200 poverty-stricken families in Kisumu.
Although the Sunshine-Mitzvah Fund is not part of WiRED's educational mission, the idea grew out of a small group of volunteers  who wanted to help hungry people in dire need — a true humanitarian effort.
Conclusion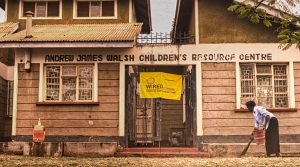 All of us at WiRED look ahead with optimism to 2021 as we double down on our ongoing commitment to global health education — especially through the expansion of our CHW program. We urge you to join us as we strive to raise the quality of health knowledge and the prevention of illness in remote and medically starved communities worldwide. It is our firm belief that community health begins with knowledge.
We have to unite to improve health in low-resource countries. Pandemic year 2020 reminded us of the interconnectedness of population health everywhere. If we can help one person get better or avoid disease, it helps the whole community. By joining resources — community health workers and community members — we all win.
WiRED's Community Health Worker Training Program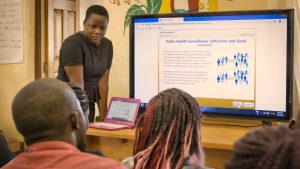 WiRED's CHW program follows World Health Organization guidelines. The program is housed in the WiRED International Center for Community and Global Health at Claremont Graduate University, California, which is accredited by the Western Association of Schools and Colleges.
WiRED uses computer-based modules, taught in real-time by physicians and nurses, to train groups of around 20 students. The 140-hour course covers health basics, patient assessment, clinical issues, health teaching and surveillance.
Students who successfully complete the training curriculum and a comprehensive final exam are awarded a certificate. Each year, consistent with global standards for medical professionals, all trained CHWs are required to earn 50 continuing health education units to maintain their certification, reinforce their knowledge and learn new skills. They stay current on scientific findings and the latest diagnostics and treatments for health conditions that may impact their communities.
WiRED provides a complete program by which CHWs can access training material (more than 400 courses) and keep track of their health education points. WiRED expects to make this program available to nurses and future CHWs in 2021.