Sunshine-Mitzvah Fund Feeds Families in Kisumu Slums
Groceries Bought with Small Contributions
By: Allison Kozicharow; Edited by Jessie Crowdy
This December members of the WiRED International community contributed "lunch money" donations to the Sunshine-Mitzvah Fund in order to purchase groceries and Christmas treats for more than 200 families in Kisumu, Kenya, where our community health workers provide their medical and health services.
For years, WiRED has collected small amounts of money from Board members and friends for what we call the Sunshine-Mitzvah Fund (see sidebar). Sister Bernadette Nealon and her staff at several clinical centers in Kisumu, who use WiRED's health education programs, have covered small necessities needed by the local population with these funds. These supplements include money for medications, food for hungry children and rides to a hospital for the sick who would otherwise have to walk.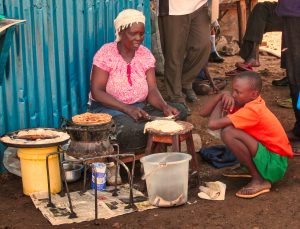 This year, however, WiRED learned that Sr. Bernadette was having to dispense Sunshine-Mitzvah funds to feed a starving community hit by crop failure, famine, flood, locusts — and COVID-19. WiRED supporters responded with combined contributions that reached more than $4,000, which enabled Sr. Bernadette to buy and distribute groceries and holiday treats to poverty-stricken families. For a portion of this year's program, she and her volunteers partnered with the Wakonyu Orphans Project, whose mission is to restore life and hope to aged adopting guardians and adopted HIV/AIDS orphans.
Fifty of the 200 families helped by this year's donation are headed by elderly people who take care of orphaned children. It's common that grandparents watch over their grandchildren and other children after the parents have died, often from HIV/AIDS. These gap-families are especially hard hit by the poverty that plagues East Africa. Sr. Bernadette said the old folks and the children were thrilled when they were given the food. Of all family recipients, Sr. Bernadette wrote: "It was amazing when we saw the faces of children, youth, women and men who received the gifts and the joy on their faces as their names were called out to receive their gift."
The History of the Sunshine-Mitzvah Fund
The Sunshine-Mitzvah Fund was started in 2009 with a small donation to help Sr. Bernadette Nealon subsidize purchases of food and medicine for the neediest people who visited the Pandipieri health clinic. In 2011, WiRED Executive Director Gary Selnow, Ph.D., described the informal fund to the late Faye F. Cohen, wife of the late Sheldon S. Cohen, Esq., a longtime WiRED Board member and IRS Commissioner under President Lyndon Baines Johnson.
Mrs. Cohen made a generous contribution, and then annually contributed money to the Sunshine-Mitzvah Fund to help with basic health and food needs, mostly of mothers and children. Mrs. Cohen and Sr. Bernadette never met, but they got to know each other long distance through their messages, which Dr. Selnow carried back and forth on his trips to Kenya.
All their lives, the Cohens responded without hesitation to the vulnerable. They would simply ask, "What do you need?" Together the Cohens energized WiRED for nearly 20 years in many ways, from hosting annual Board meetings at their home, to supporting WiRED projects in underserved communities around the world.
Over time, Mrs. Cohen's support of the Fund was joined by many other people who recognized the value of well-placed donations to impact the basic needs of disadvantaged people. Donations have increased over the years, as a large number of people donated their "lunch money" to support the work.
Profiles of Some of the Beneficiaries of the Sunshine-Mitzvah Fund
(These descriptions have been provided by the Wakonyu Orphans Project)
Petronala Amollo Okinda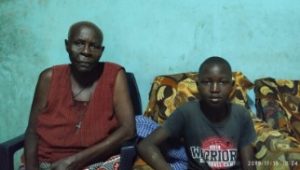 Petronala Amollo is 80 years old. She was born in Kisumu East. She got married at 17 years old and had eight children, five of whom died. Her husband died 30 years ago. She was then supported by her son Bartholomeo, until he died in 2010. Nowadays she is fully dependent on the local community. Petronala takes care of two orphaned grandchildren; children of her son and daughter who are both dead.               
Peres Adhiambo Otieno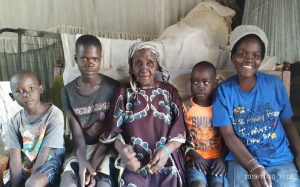 Peres Adhiambo is 89 years old. Peres was married to Johannes Otieno. They had six children, of which five died. Peres takes care of three orphans, who are her grandchildren through her son who passed away in 2012. Due to her age and eye problems, she is limited in the work she can do. She is assisted in the household by a fourth granddaughter named Nancy Atieno (pictured in blue T-shirt) who lives with her and helps her every day.
Pamellah Otieno Auma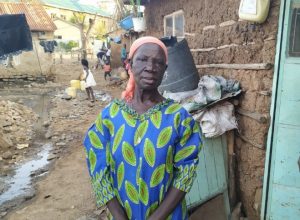 Pamellah Otieno is 64 now. She married when she was 16 and never had children. Her husband died in 1984. Traditionally she cannot go back to her own family. Her husband's family sent her away because she didn't produce sons. Pamellah takes care of three orphans of her late sister. When schools are open they stay with her and all sleep on the mud floor. Pamela is supported by the Parish community. They pay her rent and bring food from time to time.
Teresa Achieng' Wasonga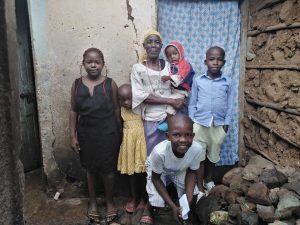 Teresa was born in 1959.  She developed health complications growing up which interfered with her ability to have children. As a result she decided never to get married. Teresa lives in Manyatta in a one room mud house. She lives with five adopted children, four of whom are her late cousin's children, and she took them to love and care for since their parents neglected them. One is her late brother's child; her brother died from a noncommunicable disease.
John Otieno Polo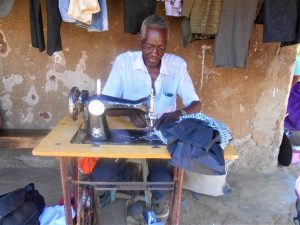 John Polo is 72 years old and lives in the Nyalenda area. He is married. He is a tailor. He lives in a three room semi-permanent house. He and his wife are taking care of four orphans; three of them stay with John's wife who lives outside Kisumu town in their rural home. The orphans are his grandchildren.
Annah Adunga Ndonga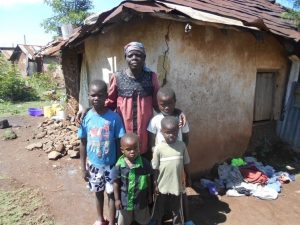 Annah Adunga is in her fifties. She is taking care of four orphans. Anna sells fish as a source of living and lives in a one roomed mud house in the Nyalenda area. She says the fish business has not been doing well during this pandemic since the majority of her customers got laid off.