Update from WiRED's Community Health Workers in Kenya
Addressing a Multitude of Local Health Concerns
By Allison Kozicharow; Edited by Elizabeth Fine
In 2001 WiRED began to open information centers throughout Kenya where anyone could come and learn about health and disease, individually or in groups. Then, people largely sought information about HIV/AIDS. No community health workers (CHWs) were available at the time to care for the health of these communities.
Today, in 2022, WiRED-trained CHWs are in place to handle community health concerns using our materials covering more than 400 health topics, and they have become trusted go-to sources for medical issues.
Report by the numbers:
Number of CHWs: 12
Total people reached by all CHWs: 11,009 (March = 5,783; April = 5,226)
Primary topics of community concern (in order of priority): COVID-19, HIV/AIDS, malaria
Other topics of concern to community members: family planning, reproductive health, mental health, cholera, asthma and pneumonia
Average working hours per week for each CHW: 24 hours
Largest numbers of people assisted each by a single CHW in one week:
March = 239; April = 156
This March and April CHWs continued to administer health services to prevent disease and relieve suffering. COVID-19 was the most common concern in both months, but HIV was second most prevalent in March and malaria was second most in April. Other topics included family planning and reproductive health, mental health, cholera, asthma and pneumonia.
Testimonials
What follows is a juxtaposition of two stories, one from an archived WiRED testimonial, some 20 years ago, and the other from a recent CHW report. They illustrate the evolution of WiRED programs in Kenya from offering health information to training a cadre of health workers who work to improve the health of their community.
From the early 2000s, testimonial from James Mwangi:
My name is James Mwangi. I am 29 years old and I am living with HIV. Throughout my school life, I never had access to detailed information about HIV/AIDS and other sexually transmitted infections. My parents never discussed sex with my siblings and me. At home everyone was afraid of me after I learned I was infected with the virus. They set separate utensils and a washing basin for me. I felt stigmatized and became very traumatized.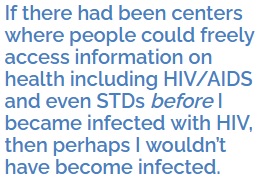 WiRED International, through other organizations in Kenya and elsewhere, have put up many community health information centers. I attended several outreach sessions about positive living with HIV/AIDS. If there had been centers where people could freely access information on health including HIV/AIDS and even STDs before I became infected with HIV, then perhaps I wouldn't have become infected.
From 2022, report from CHW Bunnyce Atieno: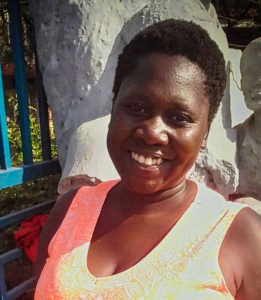 In the field I came across a woman who was suffering from fibroids. She believed she had an untreatable cancer. I was touched when she said she was only waiting for her death. I managed to cheer her up by telling her what I know about fibroids, and that they were non-cancerous growths. She said her doctor had told her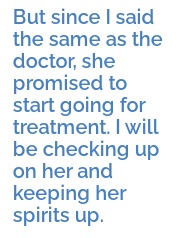 that, but she didn't believe it because doctors love telling people good lies so that they don't give up on life. But since I said the same as the doctor, she promised to start going for treatment. I will be checking up on her and keeping her spirits up.
WiRED's CHW and CME Programs
Last year WiRED began training CHWs in Kenya, India, Nicaragua and Peru, using a World Health Organization-compliant curriculum. The 140-hour course covers health basics, infectious and non-communicable diseases, patient assessment, clinical issues, health teaching and surveillance. Students who successfully complete a comprehensive final exam are awarded a certificate confirming course completion.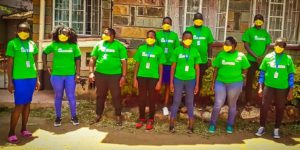 All CHWs are required to earn 50 continuing medical education (CME) units to maintain their certification. This CME program enables CHWs to reinforce their knowledge and learn new skills. They stay current on scientific findings, the latest diagnostics and treatments for health conditions that may impact their communities.