Second WiRED Community Health Worker Training Class Graduates!
Ready to Boost Health in Kenyan Communities
By Allison Kozicharow; Edited by Elizabeth Fine
WiRED International is proud to announce the graduation of our second community health worker (CHW) training class in Kisumu, Kenya. The new group of 16 finished the challenging 140-hour course, based on World Health Organization guidelines, and every student took and passed the final exam to receive a course completion certificate.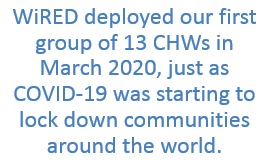 The graduation ceremony took place on Wednesday, May 25, at Kisumu Urban Apostolate Programmes Pandipieri. Each graduate was called up to the podium and presented with a certificate and a handshake amid applause from the audience. Attending guests included two representatives of a United Kingdom-based organization, Kenya Orphan Fund & Uganda Project, which supports vulnerable children. The celebration featured a number of speeches followed by a small buffet.
WiRED requires a clinician and a nurse to conduct CHW training, and Ong'iro Junior  Gilbert Albert (clinician) and Roselyne A. Mulama (nurse) acted as instructors for this year's class. Also, Lillian Dajoh serves as overall WiRED program coordinator in Kisumu and manages CHW operations.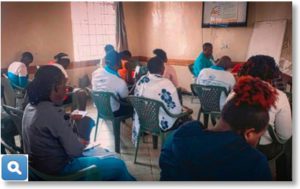 WiRED deployed our first group of 13 CHWs in March 2020, just as COVID-19 was starting to lock down communities around the world. Since then these CHWs continue to reach more than 5,000 people each month with vital health services and prevention training for community members. The second group of CHW graduates will also be mobilized in Kisumu and surrounding villages, potentially doubling the number of people receiving health care and support.
Congratulations to the new CHW graduates! Bravo!
2022 CHW Graduates, Kisumu, Kenya
Millicent Randiki Okoth
Nelly Akoth Oyule
Janet Ochieng
Lillian Dajoh
Joseph Ochieng
Vincent Omondi Ochieng
Steve Wonder Odiaga
Denis Onyango Otieno
Elizabeth Akinyi Otieno
Rebecca Odongo
Carren Osomo
Milka Aoko Nyadiang'a
Elizabeth Chesan'g
Lency Mmbone
Irene Achieng
Linet Awuor Ijusa
WiRED's CHW and CME Programs
With guidance from a panel of 12 physicians and nursing professors, WiRED International developed an extensive WHO-compliant, CHW curriculum comprising 26 modules that can be downloaded to phones and tablets. Local physicians and nurses teach the 140-hour training course in classrooms and clinical settings. The course, which has been tested successfully in Kenya, Honduras, Peru and India, includes:
Basic health issues. Anatomy and physiology; infectious diseases prevention and control; non-communicable diseases, causes and prevention; health promotion; mental health
Clinical issues. Vital signs and basic assessment; first aid and assessment; medications management; patient assessment
Health Communications. Communication skills; teaching health topics; health surveillance skills
In 2020 WiRED began training CHWs in Kenya, India, Nicaragua and Peru, using a World Health Organization-compliant curriculum. The 140-hour course covers health basics, infectious and non-communicable diseases, patient assessment, clinical issues, health teaching and surveillance. Students who successfully complete a comprehensive final exam are awarded a certificate confirming course completion.
All CHWs are required to earn 50 continuing medical education (CME) units to maintain their certification. This CME program enables CHWs to reinforce their knowledge and learn new skills. They stay current on scientific findings, the latest diagnostics and treatments for health conditions that may impact their communities.