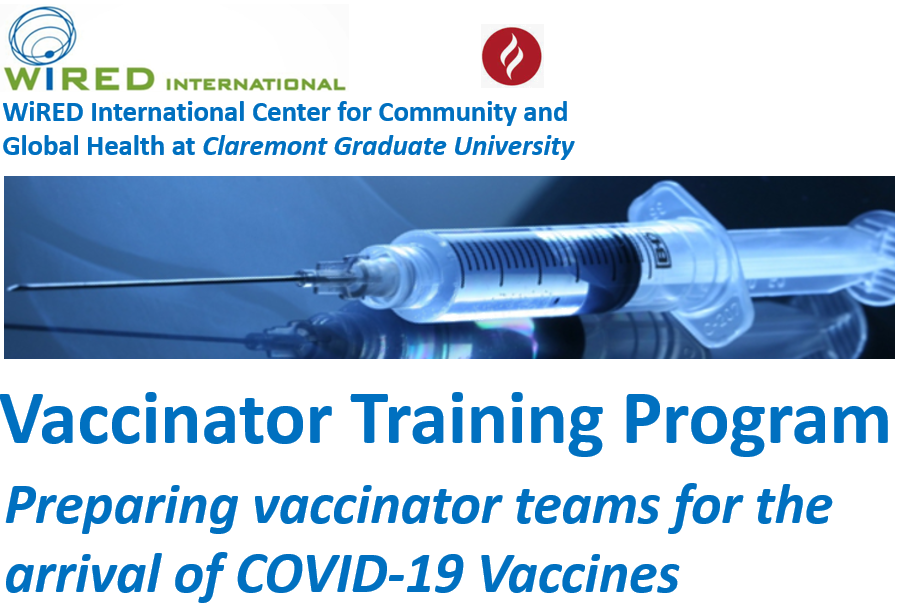 Q&A
What is the Vaccinator Training Program?
The VTP prepares teams of vaccinators to work with a doctor or a nurse as force multipliers — to expand the capacity of local medical professionals. This training program from the WiRED International Center for Community and Global Health is an enhanced version of the World Health Organization's vaccinator training curriculum. WIRED's program was developed by American doctors and nursing professors and recently has been thoroughly tested in Kenya and Uganda.
 The Curriculum includes: Moving vaccines safely from central drop-off points to communities, preparing communities for vaccinations, properly screening patients, administering COVID-19 vaccinations and monitoring patients after the shot.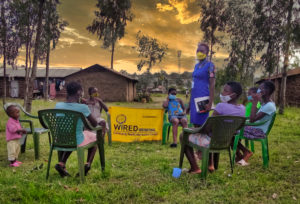 How does it work?
Using online material WiRED will prepare doctors and nurses in each country, via Zoom, how to train local vaccinators. It takes approximately 10 hours, across two or three days.
Those medical professionals then train local vaccinators in face-to-face session. There is a classroom component and a clinical component to the training. In all, it takes approximately four to five days.
How much does the Vaccinator Training Program cost?
Costs of the VTP program have been covered by a generous donor. The VTP is free of charge.
Is this program available to people in every country?
WiRED's Vaccinator Training Program focuses on all countries in Africa and Latin America.
What is WiRED International?
WiRED International Center for Community and Global Health at Claremont Graduate University is a U.S.-based, educational organization that has provided medical and health training in low-income countries for 25 years.
Why is the Vaccinator Training Program important/useful?
The focus of most international agencies addressing the COVID crisis is to acquire vaccines. That's as it should be; vaccines are desperately needed in low-resource regions around the world. However, serious attention should also be directed toward the preparation of vaccinators to distribute the vaccines, set up shot clinics and administer the injections.
The WHO recognizes this, and so it has issued a curriculum for medical professionals. The math is clear: there will not be enough medical professionals to handle the workload quickly enough to distribute the vaccines and to administer the shots. As a result, there is a genuine risk that vaccines will spoil in warehouses.  
Do vaccinators give injections in the community alone or as a team?
Once trained, vaccinators will work in teams — with a physician or registered nurse as their team leader, supervising all vaccination clinics. How many people are on a COVID vaccination team? Teams can range from one to 10 vaccinators and a team leader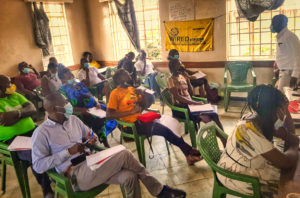 Do I need to take additional classes after completing the VTP training?  
All participants — senior trainers and vaccinators — should sign up for WiRED's Continuing Medical Education (CME) program. Trainers are welcome to use the CME resources for their own local CME requirements. Vaccinators will need to complete at least two relevant modules each month to keep their knowledge fresh and satisfy the requirement of WiRED's vaccinator program. Information about CME is available in the Train-the-Trainer module. Participants can sign up for CME here.
I'm a retired doctor or nurse. Would this program be useful to me?
Yes. WiRED International's VTP refreshes retired medical professionals returning to help with vaccinations and trains grassroots vaccinators. We are building a corp of vaccinators to end COVID.
How do I fund the Vaccination Training Program roll-out in my community/country?
Unfortunately, WiRED is not a funding agency. Our advice is to contact local, regional and country governments and funding foundations about supporting the roll-out of vaccinators.
Who should I contact for more information, or to get started?
Email contact@wiredinternational.org.
Articles about the VTP are available at the following links:
WiRED International's Vaccinator Training Program
New Paper Identifies 'Citizen Vaccinators' as the Solution to Pandemic Challenges in Many Nations
Contact
contact@wiredinternational.org.