The Coronavirus Threat:
Key Topics in Infection Control
Module Package for Distance Learning
as Schools Shut Down Across the Country
By: Allison Kozicharow; Edited by Jessie Crowdy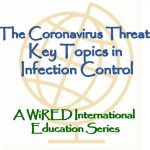 As the coronavirus pandemic grows, schools throughout the United States and all over the world are closing and making plans for long-distance learning.
Contributing to online education, WiRED International, a U.S.-based non-profit, is offering a free access training package that provides students with a close look at the coronavirus and several related health topics:
Core program:
Coronavirus (COVID-19)
How the Immune System Works
Airborne Diseases
Understanding Communicable Diseases
Handwashing
Additional topics:
Pneumonia
Upper Respiratory Tract Infections
Influenza
Key features of this training package:
It is available without charge to all high schools, teachers and students
It can be accessed online and for immediate downloading to computers, tablets and smartphones
Learning modules are reliably doctor-written, peer-reviewed and evidenced-based on content from the World Health Organization and the Centers for Disease Control and Prevention.
The modules are interactive, engaging and designed for individual and group learning.
This educational package will provide schools with a means of informing students about the illness that is shaking the world with its impact on human health, gatherings, commerce and travel. . . and of course education. This training package is available now for use online and for downloading. WiRED will be issuing updates over the next several days.
Comments about this program
We are fortunate that once again WIRED has stepped forward with exceptional digital content to address the global need for essential coronavirus public health information. It is very much needed to help keep our communities healthy by preventing the spread of the disease.
– Richard Carmona, 17th Surgeon General of The United States
---

The coronavirus pandemic now has the world in its grip. We need straightforward information that is vetted, reliable, and readily available. WIRED infectious disease professionals provide this in an easy to use, multilingual, and web based format. These WIRED modules are a great example of the impact and power of the Internet to distribute educational material. The virtual nature of these modules provides quick and timely updates of the best methods of diagnosing, testing, treating, and data compilation regarding the impact of the coronavirus. WIRED, again, is a leader in world healthcare education provided in a safe, credible, and accurate way.
– Adam Robinson, 36th Surgeon General of The United States Navy
---

This innovative infectious disease training program could not have come at a better time for a country forced into isolation by a virus whose reach and impact we don't yet grasp. WiRED's years of experience in distant learning, although in underserved regions of the world, has positioned them well to step up at a most difficult time for this country. U.S. students and others in the population need to understand this virus and a broad range of issues related to infectious diseases, and this material helps people do that.
WiRED's Website says that community health begins with knowledge. If that's so, this non-profit's evidence-based education program can make a valuable contribution to the health of communities around the country.
– William Crano, Director of Health Psychology and Prevention Science Institute at Claremont Graduate University
---

WiRED's approach to computer-based education goes beyond online delivery by allowing students to download an entire curriculum to their phones. That becomes a particularly useful characteristic of this coronavirus infection control program because it enables students working from home to study this material, even if they don't have a reliable Internet connection. The content of WiRED's infection training program is very well developed and highly relevant given the threat we're facing today. Putting it all online makes it the ideal program for schools around the country forced by this public health crisis to abandon regular classes."
– Yin H. Lai, M.D. Editor, Medical Journal of Southern California Clinicians
Direct access to training package