NEW: WiRED Module for Coping with Stress during COVID-19 Outbreak
Learn Practical Steps for Stress Reduction during the Crisis
By: Allison Kozicharow; Edited by Jessie Crowdy
Adding to the mounting problems imposed by the coronavirus crisis is the stress it causes on people around the world who face the emergency quietly, holed up in their homes, often separated from family and friends.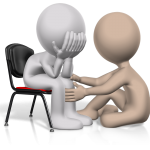 Because no one will escape feelings of stress at some time during this COVID-19 pandemic, WiRED International has created a module on Coping with Stress During COVID-19 Outbreak. The module, which is the latest addition to WiRED's COVID-19 Module Series, is based on guidance provided by the U.S. Department of Veterans Administration (VA.) It assures individuals that stressful feelings are normal in an event that has such impact on us all socially, financially and psychologically. 
When researching material for the WiRED module on COVID stress reduction, WiRED board member Charlotte Keegan Ferretti, Ed.D., R.N., identified information from the VA PTSD Center as being well researched and evidence based. She said, "The VA has engaged in numerous studies aimed at understanding, treating and preventing PTSD that include clinical trials and studies on alternative approaches. The VA website also provides specific information for community leaders and healthcare providers."  
Based on VA guidelines, the WiRED module presents information on the impact of the virus pandemic and practical steps to reduce stress. The recommendations provide advice on maintaining healthy hygiene habits, staying connected, cultivating ways to be more calm, improving the sense of control and the ability to endure and remaining hopeful. The module also offers valuable suggestions from survivors of similar crises.
As each of us processes our own stress from COVID-19, healthcare professionals are facing enormous pressure and demand as they treat patients in life-threatening conditions. Dr. Ferretti said, "We often take our healthcare providers for granted, and we forget how they place themselves at risk in events such as this, and yet thousands of dedicated professionals have returned from retirement, leaving time with family and other jobs to respond to this crisis." Whatever our role may be during this crisis, it is important to recognize stress and how to combat it. Reading WiRED's module on Coping with Stress During COVID-19 Outbreak is a good place to start.