WiRED's Continuing Medical Education Program
A Bedrock of Community Health Worker Training
By Allison Kozicharow; Edited by Elizabeth Fine
Why is continuing medical education (CME) essential to training community health workers (CHWs)?
As WiRED International broadens Community Health Worker (CHW) training, we are also refining our CME program — which follows the World Health Organization requirement that, after basic training, CHWs annually earn CME credits. WiRED's CME program enables CHWs, nurses and other healthcare personnel to maintain their currency and expand their skills in basic medical procedures and community health issues.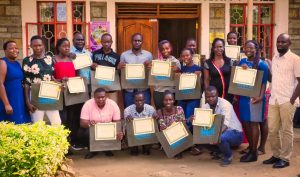 WiRED requires CHWs, after earning a certificate, to enroll in the CME program and earn 45 credits each year. They can study a wide range of topics or decide to focus their time on a particular specialty, such as mother and child health, infectious diseases and HIV/AIDS.
WiRED's online CME program:
Is designed for CHWs, nurses, rural physicians . . . anyone in health care who needs updates and wishes to expand his/her skills.
Taps into WiRED's health training library of several hundred modules.
Features an app that can be used anywhere — developed by WiRED's computer and content teams.
Allows users via the app to download the modules to their smart devices, so they can study the material offline.
Enables users to see "Urgent" modules, which are posted for critical global health issues, such as COVID-19, Zika and Ebola. When users open the app, Urgent modules will be red flagged for them.
Keeps the credit score and reminds users how many credits they need to complete before the end of the year.
Flags new modules to let users know about all recent additions to the WiRED e-library.
Allows all modules to be accessed (downloaded) from the library.
All CHWs, nurses and healthcare workers will soon be invited to use WiRED's CME program. WiRED believes that CHW training must continue to meet future challenges in health care and to accommodate the unique health demands of local communities in underserved regions of the world.