WiRED Team in Kenya Takes Action against COVID-19
Numerous Challenges Confront Health Workers
By: Allison Kozicharow; Edited by Jessie Crowdy
The spread of the COVID-19 pandemic to Kisumu, Kenya, is placing a heavy burden on a population already suffering routinely from disease and lack of basic health care. If that weren't enough, since early 2020, East Africa has experienced unprecedented waves of locust swarms — a crisis linked to climate change — which has destroyed livestock and crops and threatens to worsen food scarcity.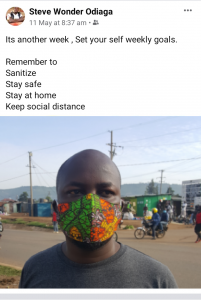 WiRED International just received an update (see earlier story) on the situation in Kisumu, a community we serve, from our program coordinator there, Lillian Dajoh. WiRED staff operating out of clinics in Kisumu are working with WiRED-trained community health workers and local youth volunteers to educate or "sensitize" people living in the marginalized settlements and streets of Kisumu. These community health workers teach about the virus and promote access to available healthcare services, with the following goals and challenges ahead of them:
Goals
Promote continuous access to WIRED computerized health information.
Convince people to adhere to COVID-19 preventive measures to ensure behavioral change toward the spread of coronavirus and to follow government directives.
Reduce the spread of the virus through use of WiRED modules on COVID-19 and related topics.
Challenges
Social distancing affects access to the WiRED health education facilities in Kisumu.
Circulation of propaganda and misinformation about the virus makes it difficult for the government to reduce infections.
Proper disposal measures for re-usable masks and disposal points to collect used masks do not exist.
Impoverished community members spend their limited resources on food instead of face masks.
Many citizens are unwilling to access ANY other medical services because of victimization and violence.
Some Accomplishments to Date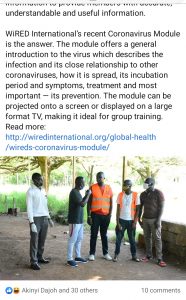 The team set a target of reaching more than 8,000 people in Kisumu County. So far, in April and May, the team carried out the following activities (specific numbers attached in parentheses; supplies provided by the county government and the Kisumu Urban Apostolate Programmes):
Community sensitization on the spread of COVID-19 and how to take preventive measures (8,341)
Distribution of hand sanitizers (4,530)
Distribution of face masks (8,341)
Referrals to WiRED health centers and the WiRED website to access health education materials (2,230)
Distribution of food and non-food items to street families and people in informal settlements (4,530)
Work Still to Do
Deliver and distribute soap, sanitizers and basic hand washing facilities.
Promote continuous good hygiene practices among the most marginalized citizens.
Advocate general health services and explain how to access them.
Provide continuous education about prevention and guidelines to curb the spread of COVID-19.
We at WiRED applaud the tireless work of our team in Kisumu and pledge to continue our training there so that community health workers can prevent and contain not only outbreaks such as COVID-19 but elevate the day-to-day health of their people.  
Sample Social Media Posts from
WiRED Staff in Kisumu

The pandemic has caused HAVOC in how we live and socialize on a daily basis. To distinguish between myths and scientific truths, WiRED International has taken the initiative to educate the community about the pandemic. For more information, you can visit WiRED's website and our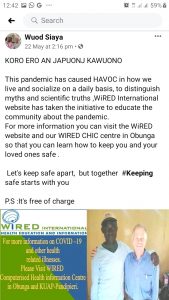 clinic so that you can learn how to keep you and your loved ones safe. P.S. It's free of charge.
  — Wuod Siaya
The new coronavirus is a global threat. Schools, civic and faith organizations and their leaders need up-to-date, accessible information. WiRED's recent coronavirus module is the answer.
  — Emmanuel and Hillary Otieno
Misinformation and myths have been spreading fast especially among the most marginalized people in the community …. They may not be able to access the right information and most of the time rely solely on what they hear from people around them. Visit www.wiredhealthresources.net for basic health information.
  — Steve Wonder Odiaga