Features WiRED's Diabetes Series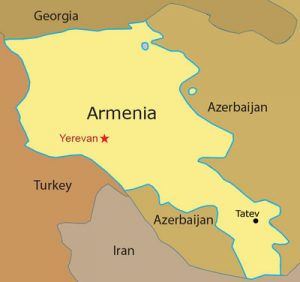 On February 2 WiRED International – Armenia hosted a seminar on diabetes at the Tatev Tourism Information Center in the rural village of Tatev, Armenia. Avetisyan Jaklin, a Tatev Medical Center doctor, led the two-and-a-half hour interactive session using the Armenian language version of WiRED's Diabetes Series. The 12 participants included nurses and doctors together with several people with diabetes.
WiRED's Diabetes Series, comprising 14 modules, covers a wide range of issues related to the disease. They offer a general discussion of diabetes then consider how the body is affected by the illness. They also review measures people can take to minimize the impact of diabetes, which affects 12.3% of the population in Armenia.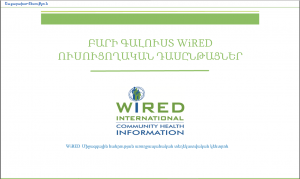 Attendees made the following comments:
Anush Hasratyan, a B&B owner with diabetes: "The training was really interesting."
Anahit Mnatsakanyan, a B&B owner, ex-nurse with diabetes: "I was very impressed. I would like to see more people in the next meeting."
Zarine Mesropyan, café owner in Tatev: "It was very useful to know how to take care of our health."
Garnik Mkrtchyan, participant: "The training and the knowledge I gained were helpful. Everyone should have basic information about terminology."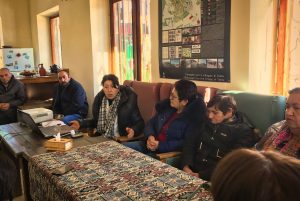 Upcoming seminars will feature the following topics: arterial hypertension, ischemic heart disease and hypothyroidism (thyroid dysfunction). Medical workers hope to attend future trainings on first aid and to learn some basic medical vocabulary for working with foreign visitors.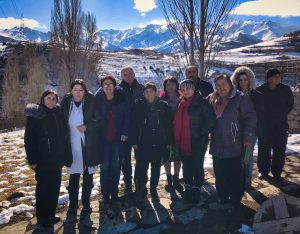 In a new and considerably expanded program in Armenia, WiRED, in partnership with Caritas Armenia, will run one segment of a four-country test this year of WiRED's new Community Health Worker Training Program. This requires additional translation work on modules designed to train a cadre of health workers to assist medical professionals throughout Armenia.
WiRED in Armenia
Since 2012 WiRED has worked in Armenia to provide programs that allow doctors, healthcare workers and community members access to critical education to combat health issues relevant to Armenia's underserved population. Health learning events, employing WiRED's training modules, have been sponsored by WiRED – Armenia, its close partner on many critical community education projects. Today, poverty and the lack of reliable medical information are creating a healthcare crisis for the people of this Eurasian country. For information on WiRED's work in Armenia, go to the WiRED International – Armenia Facebook page. WiRED – Armenia operates under the guidance of Director Sebouh Baghdoyan.
WiRED's Partnerships in Armenia
Last July, WiRED announced the receipt of a memorandum of understanding (MoU) from the Republic of Armenia's Ministry of Health. The letter, from Deputy Minister Lena Nanushyan, formally acknowledged WiRED's educational programs for continuous professional development of healthcare providers and expressed the Armenian government's support of WiRED activities. This MoU further strengthens partnerships, which WiRED has established in that country, and has reported on in recent stories about its collaborations with Caritas Armenia and WiRED International – Armenia.