Rheumatic Heart Disease (RHD): A Killer of Marginalized Populations
WiRED Offers an RHD Module Series and an Animation
By Allison Kozicharow; Edited by Jessie Crowdy
Winter brings seasonal increases in strep throat, a bacterial infection which if not treated with an antibiotic can lead to rheumatic fever, rheumatic heart disease (RHD) and even death.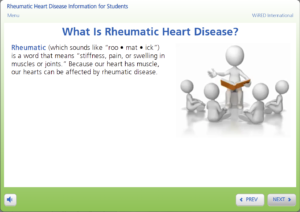 Although RHD is completely preventable, it affects 39 million people worldwide, many of them children in low-resource countries.
WiRED International has long targeted RHD. Nearly a decade ago, we started to develop a suite of programs designed to educate and curb the spread of the infection. A quick history:
In 2012, WiRED developed a series of modules, translated into several languages, which target a range of audiences, starting with modules for teachers and students and going on to include modules for parents, medical professionals and community health workers.
In 2013, WiRED tested its RHD project in Kenya, where research was carried out at the University of Nairobi by medical students who measured the effectiveness of WiRED modules in teaching children about RHD.
In 2014, WiRED rolled out its echocardiogram training series. This series was written by a four-member team of medical specialists to provide a program that would help nurses and professional health workers identify patients with possible RHD in underserved communities — where a visit from a cardiologist is unheard of.
In 2015, WiRED created an RHD animation, which to date has received more than 55,000 hits on YouTube. In the space of a few minutes, the video describes RHD and explains why it is so serious, why it prevails in underserved communities, and why it needs to be addressed. The animation is available in English, Spanish and Portuguese.
Currently, WiRED's RHD training is in high demand and is being used extensively with school children in Africa and in Latin America.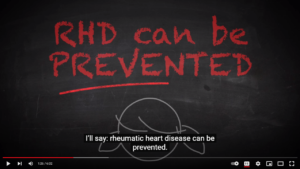 Prevention of RHD remains key. WiRED believes that the ability to recognize the signs and symptoms of strep throat and treat it before it progresses to rheumatic fever, then to RHD, will dramatically reduce the occurrence of this illness.