Update from WiRED's Community Health Workers in Kenya
Continuing to Elevate the Standard of Local Health
By Allison Kozicharow; Edited by Elizabeth Fine
The recently expanded team of WiRED-trained community health workers (CHWs) in Kisumu, Kenya, reported another successful month of providing health education to their area residents.
During the month of November 2022, 21  CHWs in Kisumu, Kenya, reached a total of 11,491 people with health services. Working 24 hours per week, each of the CHWs met with at least 29 patients a week, and the largest number seen in a week by a single CHW was 630, most of them in health training classes.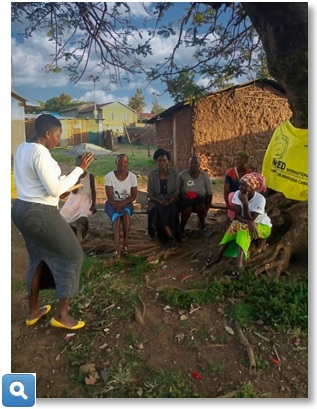 Overall, the top health issues, among many others, for the month of November were as follows, in order of prevalence:
HIV/AIDS
COVID-19
Infectious diseases
Malaria
Sanitation and hygiene
Mental health
In 2001 when WiRED first began work in Kenya, HIV/AIDS was rampant all over Africa. As told in an archive story found here, WiRED opened a network of Community Health Information Centers to combat the devastating spread of diseases such as HIV/AIDS. Sadly, the illness is still a top health concern in Kisumu today, as it is in much of Africa and elsewhere: November was the second month in a row when CHWs reported HIV/AIDS as the #1 health concern.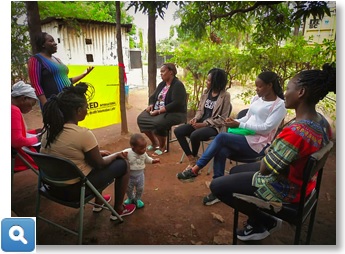 The good news is that WiRED's locally trained CHWs teach thousands of people each month about prevention and healthy practices, provide basic clinical services and refer community members to clinics for treatment. Their ensemble of services — bolstered by WiRED's continuing medical education course requirements — improves the health of their population. CHW testimonials (see sidebar) provide potent examples of the effectiveness of the WiRED CHW program and the proof that CHWs have become reliable resources for health concerns in their communities.
The following testimonials on the subject of COVID-19 and malaria illustrate the impact CHWs are making in their community as trusted go-to sources for health matters and preventive practices.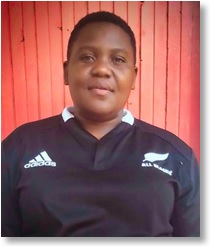 The COVID-19 pandemic has caused some of the Kisumu residents to lose their jobs because of workplace closures and layoffs, and business owners, chiefly in the food sector, are struggling to keep afloat, especially with losses due to the 7 pm curfews. Many families have lost loved ones. As a community health worker I have raised awareness about COVID-19 and educated people on how to prevent it by washing their hands with clean, running water; to use hand sanitizer; and to maintain social distance and avoid crowded places. I explain the symptoms of COVID-19 to individuals and groups, but I tell them it isn't always easy to recognize if someone has the virus. I hand out masks and show the correct way to wear them and dispose of them after use.
—Mildred Digolo, CHW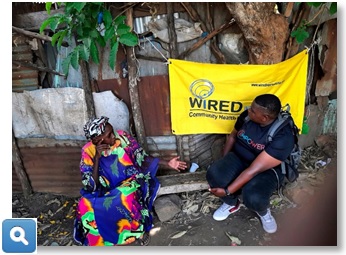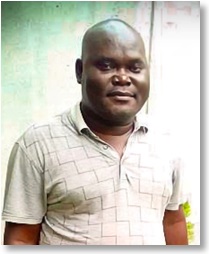 I am sharing my personal experience with malaria and also what I have been doing to educate people on how to avoid malaria. Four years ago I contracted malaria before I was trained as a community health worker. At that time I had no information about the disease. I was sick, but I didn't know what I was suffering from. It was unbearable: my head was bursting, I had a high fever and I swung back and forth between sweats and chills. My only treatment was from pain pills I bought over the counter, which did not help. I ended up in the hospital, where I learned I had malaria. I got better, but all this time I was not sleeping under a mosquito net. Now that I am a trained community health worker, I teach my community on how to prevent malaria by explaining the importance of sleeping under treated mosquito nets, clearing bush and draining stagnant water so that the mosquitoes can't breed. And I educate people about symptoms and treatment of malaria.
—Daniel Ayieko, CHW