WiRED Mourns the Loss of William Emerson Brock
Senator, Secretary of Labor and WiRED Board Member
By Allison Kozicharow; Edited by Elizabeth Fine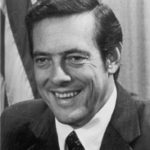 WiRED International's board of directors and volunteers are deeply saddened by the death at age 90 of William "Bill" Emerson Brock III on March 25, 2021. He served until 2011 as a valuable member of WiRED's board and an active supporter and promoter of our health education programs in the former Yugoslavia, Iraq and elsewhere.
Brock was born on November 23, 1930, in Chattanooga, Tennessee. He was graduated from Washington and Lee University and then joined the U.S. Navy. During his career he served as a Tennessee congressman for four terms and U.S. senator from 1928-1931. As U.S. Special Trade Representative, he also had an ambassadorial rank. He was Secretary of Labor in the Reagan Administration and served as Republican National Committee chair.
WiRED Executive Director Gary Selnow, Ph.D., said, "Bill was a pivotal member of our Board. His help and guidance, particularly in our interactions with government programs, enabled us to advance our work in regions where our country had notable interests. I came to see Bill as one of the wise men, whose advice and counsel I greatly valued."
To read more please click on Brock's obituary in The New York Times.