By Allison Kozicharow; Edited by Elizabeth Fine
Starvation continues to threaten millions in the Horn of Africa, including the people of western Kenya where WiRED International serves. One of the worst droughts in decades coupled with food supply chain issues due to the war in Ukraine have impacted too many people.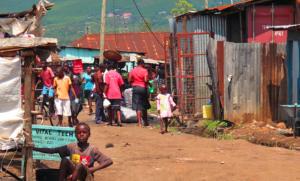 Every year WiRED International collects donations for the Sister Bernadette Sunshine-Mitzvah Fund, which raises money for the purchase of groceries for residents of Kisumu, Kenya. Sr. Bernadette Nealon is a Catholic nun who directs Pandipieri, a facility that provides a health clinic, school, women and child support program and food assistance for the poorest families. The fund, made up of mostly small "lunch money" donations from people in the United States, goes directly to those in need — with zero spent on administration or anything else. Less than $25 feeds a family of five for nearly two weeks.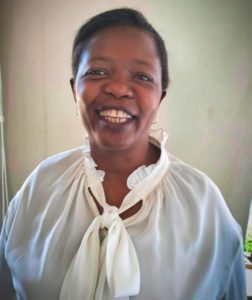 WiRED just received a report from Eunice Madara, who is the organizational secretary at  Pandipieri. She delivered the food gift to Jenipher Bunde and wrote the following story. WiRED will continue to post more testimonials from Fund recipients. In the meantime stories from people who benefitted from last year's Fund can be found here.
Gift Caleb Odhiambo is thriving
By Eunice Madara
Gift Caleb Odhiambo was born in the summer of 2022 in Wathorego, a small village within Kisumu, Kenya. His mother died from hypertension when Gift was only two weeks old. There are seven other children in Gift's family. His father performs manual work in the village and gets little pay, so his existence is hand to mouth. The villagers realized that he wasn't able to have time for Gift and the other children, so they decided to look for someone to assist Gift's father.
The villagers placed Gift in the care of Jenipher Bunde, a 75-year-old widow who also lives in Wathorego. A peasant farmer, she often works on other people's farms. Jenipher was chosen as Gift's caretaker because she is experienced with young children and has the passion to nurture them.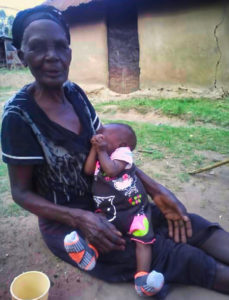 Without financial means Jenipher faced challenges in buying nutritious food to feed Gift, which resulted in the baby's showing signs of malnutrition. To Jenipher's surprise she received money this Christmas from the Sister Bernadette Sunshine Mitzvah Fund and whole heartedly accepted it.
Gift is now 5 months old and is playful, jovial and responsive. Jenipher had no idea that there were people outside her home area who recognized her potential for helping needy children. "I thank you for showing love to me and baby Gift. May God bless your organization and the partners. I welcome you to visit Gift Caleb Odhiambo anytime!"