In celebration of our 25th anniversary, WiRED is pleased to bring you stories from our archives. These articles provide a glimpse of WiRED's early work as they depict the places and the projects we have focused on over the years.

WiRED's work in the Balkans began in 1997 in Vukovar, Croatia, a small town on the banks of the Danube River in the region known as Eastern Slavonia. Over the next few years, in coordination with the U.S. Department of State (DOS), our work extended throughout each of the former Yugoslavian countries.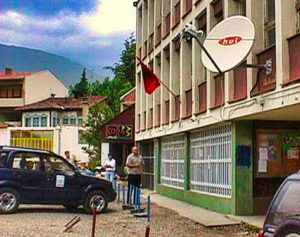 In 2000, WiRED joined a group of non-governmental organizations, assembled by the DOS, to set up free, public access Internet facilities in Kosovo. These satellite-connected computer labs allowed local people to search for relatives who had fled during the diaspora to escape from ethnic cleansing by Serbian forces. Kosovo is where WiRED adopted its medical and health education focus that ever since has driven our humanitarian mission around the world.
It was in Iraq, in 2003, that WiRED developed the capacity to arrange teleconferences between medical institutions in the United States and medical facilities abroad. Several years later, we brought that skill to our work in Kosovo. The following story describes such a teleconference in 2008, between physicians in Pristina, Kosovo, and WiRED's partners at Washington D.C's Childrens' National Medical Center (now called Children's National Hospital). This was the first such international link-up for doctors in Kosovo who had been isolated for years by Serbian aggression.
Kosovo Hosts Landmark International Medical Conference
by Kate Mayer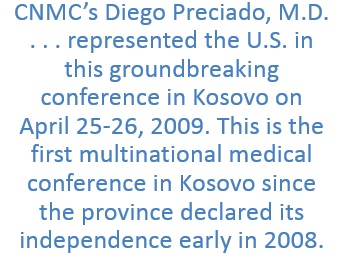 When Zgjim Limani, MD, a physician specializing in ear, nose and throat (ENT) medicine, and his colleagues wanted to put together an international medical symposium in Prishtina, Kosova, they asked if WiRED could help arrange a teleconference from the United States. Dr. Limani had worked with WiRED in the past and knew about the newly formed International Telemedicine Network (ITN).
WiRED contacted its ITN partner, the Children's National Medical Center (CNMC), and the Washington-based teaching hospital agreed to provide the lecture. CNMC's Diego Preciado, M.D., an otolaryngologist, delivered the lecture and so represented the U.S. in this groundbreaking conference in Kosova on April 25-26, 2009. This is the first multi-nation medical conference in Kosova since the province declared its independence early in 2008.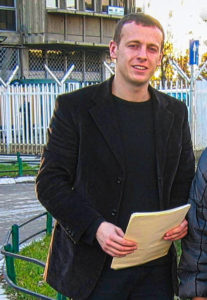 Physicians from 11 countries gathered at the Telemedicine Center of Prishtina for the First International Congress of ear, nose, throat (ENT) and head and neck surgery (HNS). The symposium was sponsored by the Republic of Kosova's Ministry of Health, Altupharma Pharmaceutics, and LEK-Ljubljana.
Mark Freeman, a longtime WiRED adviser, facilitated the ITN teleconference portion of the event. Commenting on WiRED's history during his introduction, Freeman said, "WiRED actually started its medical education work with the installation of Medical Information Centers in 12 Kosovar hospitals." He also noted that WiRED's growth since then led to the creation of the ITN, whose work WiRED coordinates. Using all aspects of information technology, the ITN plans to bring medical information to worldwide audiences.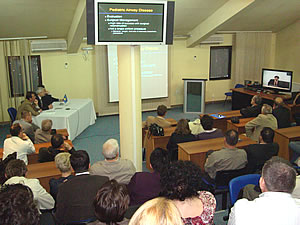 Dr. Limani, organizer of the Kosova symposium, said there was great interest in the ITN among participants, who represented Kosova, Israel, the Netherlands, Croatia, Greece, Turkey, Serbia, Bosnia-Herzegovina, Macedonia, and Albania. "The lecture was excellent, the connection was great, and everything went as planned," added Dr. Limani.
WiRED International began work in the Balkans in 1997 and has had a presence in Kosova since 2000 when it helped the U.S. Department of State set up free computer centers as part of its Kosova Internet Access Initiative (KIAI). The centers helped the war-torn country reestablish contact with the outside world. At times, WiRED set up video visits through the centers to reunite families whose ailing children had been sent to Europe for treatment. Kosova, which struggled for independence during the Balkan war, declared independence from Serbia in February of 2008. Today, most countries view it as an independent province.