Doctors in Erbil, Iraq switch on computers at a new Medical Information Centers provided by WiRED. 
In celebration of our 25th anniversary, WiRED is pleased to bring you stories from our archives. These articles provide a glimpse of WiRED's early work as they depict the places and the projects we have focused on over the years.

WiRED began working in Iraq in the spring of 2003, and over the next few years we installed 39 Medical Information Centers (MICs) in hospitals and clinics from Basrah in the south to Duhok in the north. The U.S. Department of State was our primary sponsor, and we had support from other organizations and companies that contributed equipment and helped with logistics. As we recognize our 25th Anniversary this year, we will provide other stories about our projects in Iraq.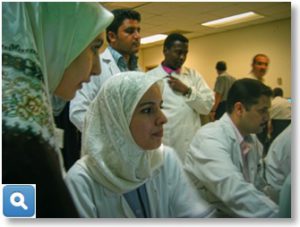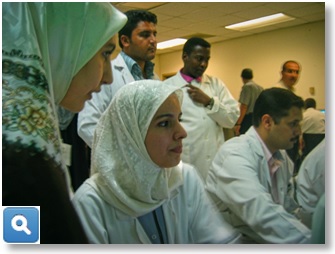 The following article from 2004 offers four testimonials about the value of the MICs to Iraq's medical community. The first observation is an official statement by the Iraqi Ministry of Health. Three additional statements are offered by Iraqi physicians who had direct access to the MICs. They outline some of the ways those computer-based resources helped them and their colleagues, especially at a time when Iraqi doctors were isolated from outside resources.
Joseph Nye, a professor at Harvard, advanced the term "soft power" to mean when a country sets an example to encourage other countries to want the outcomes we want. While there was a lot of "hard power" underway in Iraq at the time, WiRED's work became an example of soft power. We provided evidence-based medical information and Internet connections where possible throughout Iraq. We were sharing medical knowledge without cost or obligation or coercion for the benefit of physicians and with the understanding that the program would ultimately benefit the Iraqi people.

The State Department saw WiRED's MIC program as an example of American medical diplomacy, or soft power. That view is confirmed by the testimonials offered here.
Testimonials from Iraqi Ministry of Health and Iraqi Physicians