From left to right: Vincent Tseng, Bess Touma, Dr. Gary Selnow,
Robert Ohrenschall, Jim Collins, Allison McGuire
In celebration of our 25th anniversary, WiRED is pleased to bring you stories from our archives. These articles provide a glimpse of WiRED's early work as they depict the places and the projects we have focused on over the years.

2003 was a busy year for us. We were actively working on large programs in Kenya, Nicaragua and Honduras, Bosnia, Montenegro and Kosovo, and we just started a major program in Iraq to provide physicians and students with access to medical libraries. We had not yet begun arranging live teleconferences between Iraqi and American doctors, but that was in the active planning stage and would begin soon.
Our Web designers and writers were also busy preparing articles and designing layouts to help WiRED tell our story and stay in touch with our supporters here and abroad. The Web team was so successful that our Internet service provider, Affinity Internet, recognizing the Web team's skill and creative successes, gave WiRED the Grand Prize in the "Make A Difference Award." WiRED was named the best charity website among 263 nominations. Not just a token recognition, the award came with a $10,000 prize that funded several projects and helped our organization expand programs in our early years. Thank you, Affinity Internet!
The reprinted article below tells about the award and the small ceremony to recognize WiRED's writers and ITs and their impressive work on our website.
WiRED International Receives the First Annual "Make A Difference Award" from Affinity Internet
The award for the best charity Website was presented on December 22, 2003, by Jim Collins, Affinity's Chief Marketing Officer. WiRED International was selected from among 263 nominations to win the Grand Prize.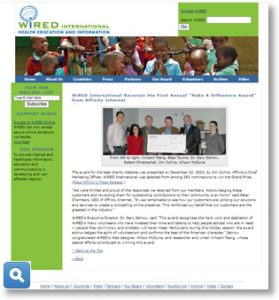 "We were thrilled and proud of the responses we received from our members. Acknowledging these customers and rewarding them for outstanding contributions to their community is an honor" said Peter Chambers, CEO of Affinity Internet. "It was remarkable to see how our customers are utilizing our solutions and services to create a compelling online presence. This reinforces our belief that our customers are the greatest in the industry."
WiRED's Executive Director, Dr. Gary Selnow, said "This award recognizes the hard work and dedication of WiRED's many volunteers who have invested their time and talents to help people abroad who are in need — people they don't know and probably will never meet. Particularly during this holiday season, the award acknowledges the spirit of volunteerism and confirms the best of the American character." Selnow congratulated WiRED's Web designer, Allison McGuire, and researcher and writer, Vincent Tseng, whose special efforts contributed to winning this award.