Image: Traditional healers in Butula.
In celebration of our 25th anniversary, WiRED is pleased to bring you stories from our archives. These articles provide a glimpse of WiRED's early work as they depict the places and the projects we have focused on over the years.
Twenty years ago to the month, WiRED opened a Community Health Information Center (CHIC) in a small Kenyan village, called Butula. Most of our other CHICs were in larger towns and cities, but Butula was different, and it presented an opportunity for us to test the range of our novel concept to use computers to present science-based, medical and health information.
One of our concerns was how local, traditional healers would accept the presence of this high-tech resource entering the community in which they were the primary healthcare providers. Their methods and treatments, often using local herbs and therapies, were handed down from generation to generation. In Butula and similar small villages, changes to health treatments came slowly and not through scientific techniques.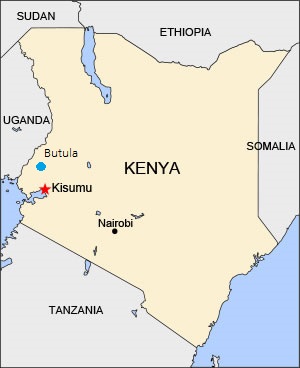 This was their turf, their community. We were outsiders showing up at their doorstep.
Before the centers were installed, we had a meeting with leaders of the traditional healers. We explained what we were doing and discussed an alarming health issue facing them, one that baffled them and frustrated their cures: HIV/AIDS.
We explained that our computers would provide information about HIV/AIDS, and while we didn't offer a cure, we had a good sense for how to prevent infection. We would teach them about HIV/AIDS prevention for people in their community and for themselves in their practice.
The CHICS typically opened to the general public from 8:00-5:00 every day, but we offered to reserve a fixed time each week for the traditional healers. During that time, they could use the computers to study health, but they could also use the CHIC room for a meeting, discussions and for any other activities they wished. The CHICs during those hours would be set aside for them.
These deeply respected healers provided many effective health services to their community, and they had a vast knowledge of methods unknown to Western medicine. WiRED works only with evidence-based medicine, but we recognize that other approaches can have a valid role in human medicine.
So, we formed a working-relationship with the traditional healers. We didn't try to "convert" them to Western medicine, only to share with them what we knew. Also, we never disparaged or questioned their traditional practices or suggested that we knew better than they did. It wasn't just to be polite. We believe that other medical traditions can contribute significantly to healing. Even the U.S. National Institutes of Health has a National Center for Complementary and Integrative Health.
The following story is written by a wonderful writer and organizer, Pauline Karani. Pauline was WiRED's country manager in the early 2000s.
WiRED's Community Health Information Centers:
Traditional Healers Benefit from Technology

by Pauline Karani, Administrative Manager
WiRED Community Health Information Centers, Kenya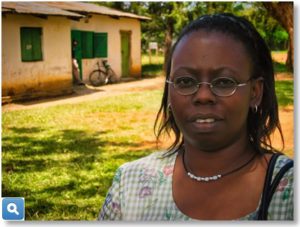 In a remote area of Western Kenya is a small village called Butula. Here, the villagers, most of whom are illiterate or semi-literate, met with great jubilation and enthusiasm the installation of four computers by WiRED International. The Community Health Information Center is in one of the few rooms with electricity. The village is so remote that you still bring the telephones to life by cranking them, you still see electricity as a rare commodity.
For the first time ever, a group of traditional healers and birth attendants have come together to share experiences and information and to get medical updates, especially on HIV/AIDS, using computer technology at the Community Health Information Centers. This, despite the fact that for many generations they have kept their knowledge and information family secrets. The semi-literate traditional practitioners have a wealth of information on the treatment and management of various illnesses using herbal remedies passed on to them from one generation to another by word of mouth.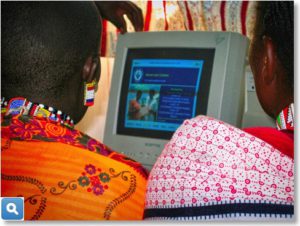 However, upon the opening of the Community health Information Centers (CHICs) in February 2002, these traditional practitioners have united and formed a group to access information in order to improve their skills and knowledge. Since most of these traditional healers and birth attendants are unable to read well, they realized that to get the most out of the CHICs they would need to go in as a group and have group learning sessions using the health CD-ROMs. One of them (the only literate one) would translate the contents, and the center staff would help them access the relevant information from the CDs.
When WiRED's managers first visited the village in February 2002, we gathered in a circle under the shade of a nearby tree together with this group of about 15 healers and traditional birth attendants to discuss their intentions towards the Centers. One by one they stood, and through an interpreter–most spoke only the local dialect-they introduced themselves and their area of expertise. It was interesting to learn that each was actually a specialist, with one perhaps handling broken bones, another skin problems, stomach problems, reproductive health, even mental problems. They said because of the formation of the Community Health Information Centers, they had for the first time ever agreed to unite, share and access information together in order to help raise the standards of living and the level of health care of their people.
On our second site visit in March, with the Center now in operation, it was wonderful to see, upon arrival, the traditional healers sitting at the computers attentively listening to the interpreter translate the information on one of the medical discs. It was a delight to learn that the traditional healers have become regular visitors to the Center! It offered proof these "grass-roots" Health Centers are indeed providing a link to the outside world and to information from those with whom they would otherwise not have regular access. Through these links, untold members of the community are being assisted in learning about current health issues and especially HIV/AIDS developments with new information.
One by one they stood, and through an interpreter–most spoke only the local dialect-they introduced themselves and their area of expertise. It was interesting to learn that each was actually a specialist, with one perhaps handling broken bones, another skin problems, stomach problems, reproductive health, even mental problems.
Five Community Health Information Centers (and four Community Health Information Stations — smaller facilities) have been opened up in Kenya to promote access to relevant health information for medical health workers, primary care givers and youth with the view to raise the health standards of communities. This simply means that these groups of people can now access up-to-date treatment and research information on HIV/AIDS and also on other illnesses affecting the lives of people in this region.
So far the CHICs have attracted a great response from many professional, primary health care workers and ordinary individuals within the communities they serve. In Kilifi, the officials of the Beach Boys Association have been using the center frequently to get information on HIV/AIDS and sexually transmitted diseases and then disseminate the information to the rest of their members. Similarly in Kakamega the "border-border"(bicycles for hire) owners make use of the center to educate their peers on the dangers of HIV/AIDS/STDs.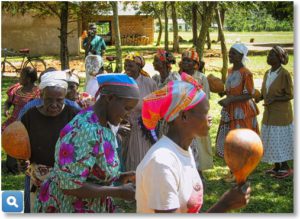 In major towns and cities the Centers are extremely popular with the medical students, the private and public medical practitioners and other health care providers. They view these Centers as a perfect and inexpensive way of getting up-to-date information in order to keep abreast of innovations. They see the Centers as resources for writing research papers, articles for journals and making presentation papers for conferences, workshops and preparation for lessons. They find information from the Centers to be extremely useful in helping diagnose difficult cases. For some of the private practitioners, the time spent accessing information in the Centers is credited as time against the mandatory 20 hours continuous training required of them by the Kenyan Ministry of Health in order for them to continue practicing.
It is often said, information is power, and the truth of this saying can be seen clearly emerging from the establishment of these Community Health Information Centers that are a great tool for the communities they serve. They are making it possible for the people to make informed decisions about their health, causing others to unite for the sake of the health of their fellow villagers and enabling yet others to improve their skills and gain greater knowledge in their chosen area of health care. One thing is for sure, the WiRED Centers are making history, if not yet in the entire country of Kenya, at least in one village called Butula!
The Community Health Information Centers are made available through a significant grant from the U.S. National Institutes of Health, Office of AIDS Research.