Coronavirus Training underway in Armenia
Sessions Using WiRED's Module, Translated into Armenian
By: Allison Kozicharow; Edited by Jessie Crowdy
All over the world, WiRED International's COVID-19 Module Series is providing free-access education about the virus and related topics to organizations, schools, students and healthcare professionals.
In response to the growing pandemic, the WiRED–Armenia team conducted two health learning sessions this month using WiRED's Coronavirus Module — now available in the Armenian language.
The first training took place at the Lady Cox Rehabilitation Center in the city of Stepanakert. Physical therapist Karine Tsatryan taught a class of 14 students and covered general information on the coronavirus with special attention given to its symptoms and prevention.
Geghetsik Grigoryan, Ph.D. — a professor of law and political science at the Armenian State University of Economics (ASUE) — conducted the second training at the Artsakh-Nagorno Karabagh Angel in the city of Etchmiadzin. Forty-five students and lecturers from ASUE, ages 17 to 55 years old, attended the session to learn about coronavirus and how to protect themselves against it.
The following is a sampling of participants' comments after taking the WiRED training:
"If we follow all the rules, we can avoid the infection."
"It is important for us to know what to do if we get the virus."
"Very useful information for us to know!"
"Thank you for sharing such important information."
"Because the outbreak has become a pandemic, it is very important to be aware and cautious."
"We gained necessary knowledge about the virus".
"We learned that fresh fruits and vegetables are not only good for our bodies but can strengthen our immune systems.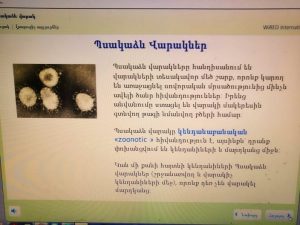 After the coronavirus sessions, the attendees were asked what they would like to study in future from among WIRED's 400+ health modules. Topics of interest included high blood pressure, hepatitis B and C, dental care, cancers and ischemic heart diseases.
The Armenian trainings took place before social distancing went into effect. However, the WiRED COVID-19 module package is designed with flexibility in mind for both classroom and long-distance learning (read earlier story here). This means future trainings can occur virtually, either in group or individual online learning. WiRED will continue to report on WiRED-Armenia's efforts to combat COVID-19 and other health challenges Armenians face.
WiRED's Coronavirus Training Module Designed for Groups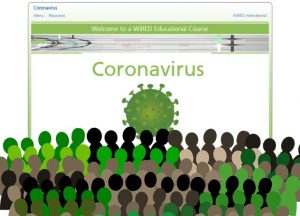 WiRED's Coronavirus education module is designed for group presentations. It serves as a teaching tool in schools, community organizations, churches and other group settings. This accurate, evidence-based module takes about one hour to go through and aids group leaders in offering a training session that informs members about the coronavirus signs and symptoms, treatments and prevention. It is available for use online and for downloading to laptops, tablets and smartphones that can be used with a TV or projector.