Health as a Well-Being Pledge
WiRED Seminar in Etchmiadzin, Armenia
By WiRED International

On March 9, 2023, an open seminar titled "Health as a Well-Being Pledge" was held at the Our House social NGO in Etchmiadzin, as part of the collaboration between the Miasin NGO and WiRED International.
Ani Mnatsakanyan, a resident doctor at the Fanarjyan National Oncology Center and a duty doctor at Armavir Emergency Medical Service, was the speaker of the day. During the seminar, she discussed some of the most prevalent non-communicable diseases in Armenia, including high blood pressure, asthma, thyroid issues, and oncological diseases. She also presented modules that the organization had developed and translated into Armenian.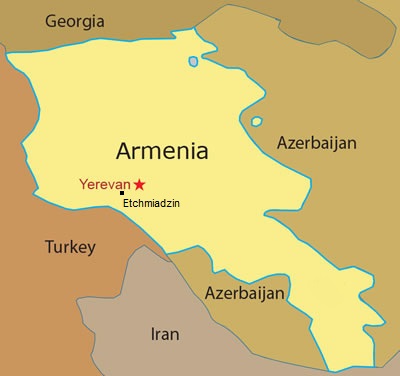 Among the guests of the open seminar were doctors, teachers, pupils, students, community workers and others, who asked their questions to the speaker. The concerns of the attendees mainly related to oncological diseases.
Mariam Kirakosyan, deputy director of Mer Tuny NGO, welcomed the guests and spoke about their history and programs.
Sebouh Baghdoian, the Armenian representative of the international health organization WiRED International and an Austrian-Armenian public figure, spoke about WiRED's mission and presented the programs that were implemented in different regions of the Republic of Armenia.
"We value having a healthy and educated society, and we want to include as many people as possible in these public awareness healthcare campaigns, which aim to provide medical knowledge to the broad sections of society, to help them be more informed, Mr. Baghdoyan said, especially urging young people to participate in raising public awareness of these initiatives.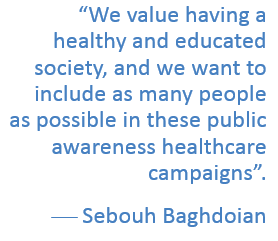 Ani Hovhannisyan, the Armenian representative of DiasporArm NGO, also referred to the importance of such events and expressed her willingness to contribute to the organizational work.
At the end of the seminar, Gevorg Chichyan, the president of Miasin NGO, presented a letter of thanks to Dr. Mnatsakanyan for cooperation on behalf of Miasin NGO and Mr. Baghdoyan.
WiRED International has been promoting the improvement of medical and health education in developing countries since 1997 and has been operating in Armenia since 2012, cooperating with civil society structures.
Note: This story was adapted from a press release that appeared March 10, 2023, in the Miasouhin PanARMENIAN News Platform. The account illustrates the continuing work and partnership of WiRED – Armenia to improve the standard of health in that country.
Armenia Snapshot
Armenia faces many challenges today. Turkey's refusal to acknowledge the Armenian genocide and a recent war with Azerbaijan over the disputed region of Nagorno-Karabakh have resulted in Armenia's uneasy relationships with these neighbors. Further, recent clashes between Armenia and Azerbaijan have broken out now that Russia, Armenia's former ally in that conflict, is distracted with the war in Ukraine.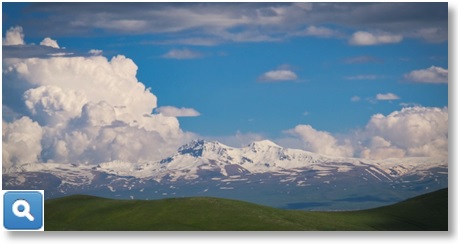 Add to that, poverty and the lack of reliable medical information are creating a healthcare crisis for the people of this Eurasian country.
WiRED has worked in Armenia since 2012 to provide programs that allow doctors, healthcare workers and community members access to critical education to combat health issues relevant to Armenia's underserved population. Health learning events employing WiRED's training modules have been sponsored by WiRED-Armenia, its close partner on many critical community education projects.
A group of Armenian physicians and NGOs is currently exploring opportunities to begin community health worker (CHW) training. Building a corps of CHWs can help fortify healthcare resources, particularly in rural areas of the country.
Community Health Worker Pilot Program to Begin in Armenia
Armenia is part of the Caucasus region, now a volatile part of the world with ongoing conflict in Nagorno-Karabakh, in the eastern part of the country, and the war in Ukraine raging several hundred miles to the north. WiRED has worked with officials and the people of Armenia for more than a decade on health education programs, providing learning modules on a wide range of infectious and non-communicable diseases.
At present, two NGOs in Etchmiadzin, a town several miles from the capital, Yerevan, have decided to launch a pilot program to train community health workers (CHWs) using WiRED's CHW curriculum, now in use on several continents.
Two local physicians, Dr. Ara Babloyan (Arabkir Medical Hospital) and Dr. Garen Koloyan (Wigmore Children's Hospital) have offered their assistance in teaching the course. WiRED requires that medical professionals administer the classroom and clinical instruction in order to localize the contents of the global curriculum.