Pilot Lecture Series on Health Conducted in Armenia
Response to Lead to Community Health Worker Training
By Allison Kozicharow; Edited by Elizabeth Fine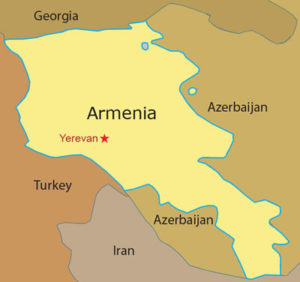 In June WiRED International announced that a group of Armenian physicians and NGOs were exploring opportunities to begin community health worker (CHW) training in Armenia. The next step towards this goal resulted in a pilot lecture series, "Health Is the Key to Well-Being," held September 11-20 in Etchmiadzin, Armenia.
The lectures drew 21 Armenians ages 18 to 70 as well as parish priests, nurses, deputy directors, teachers, students, public health organization members and social sector workers.
In cooperation with WiRED, the nongovernmental organization Miasin led the sessions using WiRED health education modules.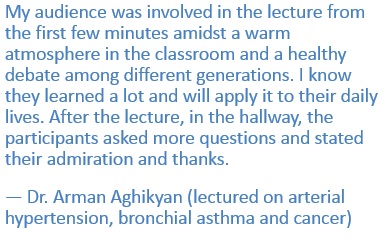 During the five-day event, health specialists presented WiRED courses covering the nine most common diseases in Armenia. The top three issues of concern were cancer, diabetes and high blood pressure. The aim of the lecture series was to:
Strengthen public health and prevention through non-formal education
Foster a healthy lifestyle among residents
Impart primary health/medical knowledge
Learn topics of interest for further lectures from attendees
Form a group of local people for future CHW training
At the end the participants received certificates and answered a final questionnaire to analyze the outcome of the lectures. The evaluation showed that respondents:
Acquired primary health/medical knowledge
Learned to monitor their own health and recognize when to contact a doctor and
Expressed interest in participating in the CHW training program.
Building a corps of CHWs can help fortify healthcare resources, particularly in rural areas of the country. Judging from the positive response from the lecture series participants, WiRED looks forward to launching a CHW paraprofessional team to elevate health in Armenian communities.
WiRED in Armenia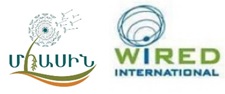 WiRED has worked in Armenia since 2012 to provide programs that allow doctors, healthcare workers and community members access to critical education to combat health issues relevant to Armenia's underserved population. Health learning events employing WiRED's training modules have been sponsored by WiRED-Armenia, a close partner of WiRED International on many critical community education projects. Thanks to a dedicated translation team headed by Dr. Ara Nahabidian, WiRED now offers more than 20 health education modules in the Armenian language on topics of pressing national concern.
Read more about WiRED's history in Armenia here.
Armenia faces many obstacles today: