WiRED Launches CHW Training Program in Nicaragua
Bringing Health Education to Underserved Communities
By: Allison Kozicharow; Edited by Jessie Crowdy
Introduction

WiRED International announces the launch of our Community Health Worker (CHW) Training Program in Nicaragua. The effort, part of a five-country research program, follows the successful CHW project already tested in communities in Kenya and India; training is near completion in Peru, and will begin in Armenia in early 2021.
The first step in preparing for the CHW program in Nicaragua was to translate the curriculum modules into Spanish. Bilingual medical student volunteers at Western University of Health Sciences in Pomona, California, began the task before the COVID-19 shutdown and finished this summer. Next, WiRED formatted the modules, then downloaded them onto laptops and tablets in León, Nicaragua, using WiRED's HealthMAP program.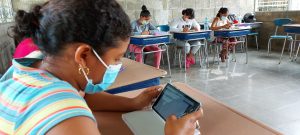 Observing all Covid-19 precautions prescribed by the World Health Organization and the Nicaraguan Ministry of Health, the in-person CHW classroom training began in Leon. Santiago Castellon, WiRED's longtime program director in Nicaragua, coordinated the CHW project. Nursing specialists Jennyfer Gabriela Flores L. and Joel Isai Cabellero M. taught the 140-hour course. Ultimately, 15 people passed the final exam and earned CHW certificates.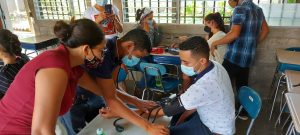 The graduation ceremony was chaired by Dr. Maria Estela Urrutia, who was designated by the Ministry of Health. Dr. Rodrigo Sandoval, director of the Los Lechecuagos School, attended the event along with two nurses, Antonia Toruño and Meris Guadalupe Mendez, from the Los Lechecuagos Community Health Center.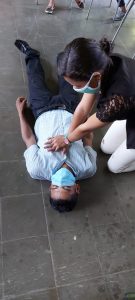 Dr. Urrutia thanked WiRED for supporting the trainees and cooperating in the educational process. She said, "The CHWs will reinforce the community health task force by augmenting the health system database. The training will likely inspire most of the CHW participants to advance even further and look at a higher-level health career in their future."
Dr. Sandobal also expressed his deep appreciation to WiRED and partner, the Nicaragua Autonomous National University of Leon UNAN, for their support of the training program and for choosing the program trainers. Dr. Sandoval described how important it is that a successful society have good health education. WiRED's director, Gary Selnow, Ph.D., expressed his personal thanks to Dr. Jorge Aleman for his support of this CHW training effort.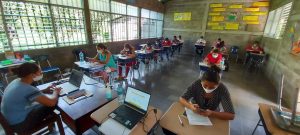 WiRED first began working in Nicaragua in 2000 (for the full story, click here) and is pleased to bring our CHW program there today so that the graduates gain the knowledge to improve their communities' health. 
Testimonials from CHW Program
Graduates in Nicaragua
I find it very interesting because every day we learn and progress in our professional experience. With each module we advance in knowledge and we can put into practice what we have learned and help our community.
— Marjorie Anayra Montiel Carrero
Excellent opportunity to link health reality with events and conditions related to health. The course is a multiple tool that allows self-care, family and community health management.
— Osman Salazar Guido
We have learned a lot and have gained productivity from the modules.
— Helen Mercedes Vargas Hernandez
The modules have helped me to know more about infectious diseases and how they spread as well as how to avoid them.
— Idalia Isabel Salazar Matamoros