WiRED Launches Continuing Medical Education App
Crucial Tool for Community Health Workers
By: Allison Kozicharow; Edited by Elizabeth Fine
Meet WiRED International's Continuing Medical Education (CME) Tracking Application!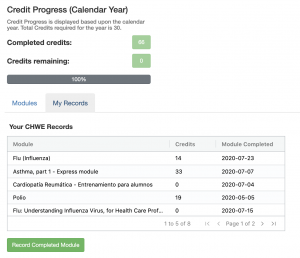 Each year, after completing their training, all community health workers (CHWs) are required by WiRED to earn 50 continuing education units to maintain their year-to-year certification. Continuing health education is also a World Health Organization requirement for all CHWs. This program (we call CHWE—continuing health worker education) enables CHWs to reinforce their knowledge and learn new skills. They stay current on scientific findings and the latest diagnostics and treatments for health conditions that may impact their communities.
How will the CME app — created by Christopher Spirito and Maddie Burke (see note at the end of the article) — help WiRED-trained CHWs? It enables users to:
Register and sign in online
Follow tabs for easy navigation
Access WiRED's entire e-library of 400+ health education modules
Read summaries of modules to decide if they are interested in them or need them for their communities
Keep their own customized record of their continuing education to tabulate points earned and points remaining for the year
Learn if they wish to concentrate in specific medical/health specialties
Receive alerts that flag new modules or urgent rapid response modules (ex., training on COVID)
Stay current and grow in knowledge
Mr. Spirito said, "The WiRED CME App is one more step towards providing the best experience for CHWs on their educational journey. We hope that our users will provide us with feedback and suggestions on updating and creating new features over the next year."
WiRED believes the CME app will be a powerful tool with which to notice and predict patterns in public health across the countries involved in the CHWE program. Further, the app will provide running aggregate statistics to see which modules are most popular in each region. This may be important because concentrations of topic selections may indicate an evolving community health problem. The CME app will make it easy for CHWs to track their journey in continuing medical education as they work to better the health of underserved populations in their communities.
Note: The CME App sprang from the brain of Christopher Spirito and his collaboration with Maddie Burke. Besides serving on WiRED's Board, Mr. Spirito is WiRED's computer program guru, who has created several systems for the organization, including HealthMAP technology — when he isn't at his day job as a Nuclear Cyber Security Consultant. Ms. Burke is a junior at the University of Vermont studying mathematics and computer science.