WiRED Mourns the Loss of Guillermo Guerra
Colleague and Friend
By: Allison Kozicharow; Edited by Jessie Crowdy
WiRED International's board of directors and volunteers are saddened to report the death of Guillermo Guerra at age 60 from COVID-19 on March 2, 2021, in Iquitos, Peru. Mr. Guerra was a longtime friend of WiRED through his work for Project Amazonas, WiRED's partner in serving the health needs of low-resource communities along the Peruvian Amazon.
Project Amazonas Director Devon Graham, Ph.D. reported, "I'm really at a loss of words to express my emotions right now. I've known Guillermo since my very first trip to Peru back in 1994, and he has become so much more than just a colleague. He was a true friend, a confidant, a person we trusted with great responsibility and the first face that medical and other volunteers, academic groups and researchers saw when they arrived in Iquitos."
According to Dr. Graham, Guillermo was a "fixer" — he knew every relevant office and person, and no matter what the need, he would find a way to fill it.  Dr. Graham said, "I'm going to miss his cheerful, can-do spirit, his wry humor and his presence. Guillermo's passing is leaving a void that can't be filled."
The scarcity of health professionals and the remoteness of villages along the Peruvian Amazon contribute to the communities'  desperate need  for health care and health education. The situation was dire before the COVID-19 pandemic came, and now the disease is ravaging even remote areas of the country. Project Amazonas reports that Peru is one of the most affected nations in Latin America along with Brazil and Mexico and is essentially tied in official cases with Mexico, despite having about 1/4 the population.
Normally in Peru there would be a vigil to mourn Mr. Guerra's passing where friends and family could gather with food and drink,  but with the pandemic restrictions, even that comforting ritual has been largely denied except to immediate family.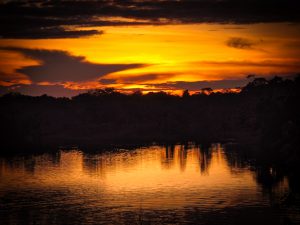 WiRED Executive Director Gary Selnow, Ph.D., also knew Mr. Guerra well from many trips to Peru, and offered this tribute: "I was shocked to get Dr. Graham's note about Guillermo's death. What a tragic loss to his family, to Project Amazonas and to everyone who worked with him. We leaned on Guillermo to help with our programs. Anything we needed, from computer components to soap powder, he could get. He would pick us up and drop us off at the airport, he would get us to the boat as we set out on a trip and be there to pick us up when we returned. Most recently, after COVID-19 hit and we couldn't travel to Iquitos, we Zoomed in for training sessions, and Guillermo was there to be sure the equipment was in place and the connection was up and running; he was a Swiss Army knife of skills and resources. I remember guys like Guillermo in the military — these resourceful people were integral and critical to every mission. Beyond his professional talents, Guillermo was funny, sincere and genuinely interested in the work and in the people involved. And at the end of the day, when the work was done, Guillermo was ready to drink a cerveza, kick back and tell a joke. My sympathies to his family and to his colleagues at Project Amazonas. I can only imagine the grief and the emptiness you feel."