WiRED Report from Kenya
Sunshine-Mitzvah Fund Aims to Feed a Starving Community
By: Allison Kozicharow; Edited by Jessie Crowdy
COVID-19, 100-year floods, crop devastation from record waves of locusts, scant health care. Now hunger and worsening mental health are sweeping through communities across Kenya, including in Kisumu where WiRED has been working for many years.  
Kisumu is where Sister Bernadette Nealon and staff have been using WiRED International's health education programs in several clinical centers to improve the lives of its underserved population.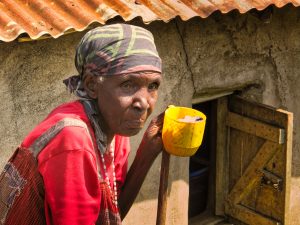 For years, WiRED has collected small amounts of money (essentially "lunch money") from Board members and friends for the Sunshine-Mitzvah Fund (see sidebar)  — a collection that Sr. Bernadette has used to cover small necessities for the local population. These supplements include money for medications, food for hungry children and rides to a hospital for the sick who would otherwise have to walk.  
Now, however, WiRED Executive Director Gary Selnow, Ph.D., received a report that Sr. Bernadette is having to dispense Sunshine-Mitzvah funds to feed a starving community.
Dancun Onyango, Project Officer for Nutrition at the KUAP-Pandipieri Center, said, "Thanks to donations from friends of Professor Gary Selnow of WIRED International, we fed 30 families in need. We gave 134 severely malnourished children locally made porridge flour during April and May 2020.  Six undernourished adults with tuberculosis received treatment at the clinic at no cost to them. The underfed women who gave birth had no breast milk and needed support with formula for their babies to thrive."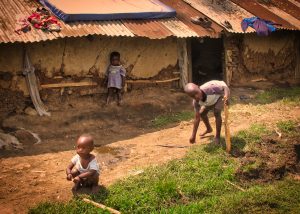 The situation in Kisumu is growing steadily worse. Due to the COVID-19 pandemic, many who had part-time work in Kisumu town-shops with a monthly income are now jobless and are carrying out household chores in the neighborhood for small fees. Having no steady income is resulting in an increase of severely malnourished children and undernourished adults. The majority of families coming to the nutrition clinics at Pandipieri, Magadi and Obunga Centers are young people. With their income nearly depleted, they are left at best with one unbalanced meal a day, which impacts the lives of their infants and children.
Faced with this grave situation and increasing hardship in Kisumu, WiRED would like to expand the plea for Sunshine-Mitzvah funds to all our readers. Small contributions make a huge difference. People in Kisumu have few resources during a singularly urgent time, and this Fund is a much needed lifeline for them.
Please send your donation, earmarked for the Sunshine-Mitzvah Fund to
WiRED International,  P.O. Box 371132, Montara, California 94037. 
The Cohens and the History of the
Sunshine-Mitzvah Fund
 The Sunshine-Mitzvah Fund was started in 2009 with a small donation to help Sr. Bernadette Nealon subsidize purchases of food and medicine for the neediest people who visited the Pandipieri health clinic. In 2011, Dr. Selnow described the informal fund to the late Faye F. Cohen, wife of the late Sheldon S. Cohen, Esq., a longtime WiRED Board member and IRS Commissioner under President Lyndon Baines Johnson.
Mrs. Cohen made a generous contribution, and then each year afterwards contributed money to the Sr. Bernadette Sunshine-Mitzvah Fund to help with basic health and food needs, mostly of mothers and children. Mrs. Cohen and Sr. Bernadette never met, but they got to know each other long distance through their messages, which Dr. Selnow carried back and forth on his trips to Kenya.
All their lives, the Cohens responded without hesitation to those in want. They would simply ask, "What do you need?" Together the Cohens energized WiRED for nearly 20 years in many ways from hosting annual Board meetings at their home to supporting WiRED projects in underserved communities around the world.
Over time, Mrs. Cohen's support of the Fund was joined by many other people who recognized the value of well-placed donations to impact the basic needs of disadvantaged people.
Donations have increased over the years and last year reached $1,845, as a large number of people donated their "lunch money" to support the work.