Thoughts on Coping with the COVID-19 Crisis
A Family Conversation
By: Olivia and Meghan Spirito; Edited by Allison Kozicharow

WiRED International staff writers Olivia and Meghan Spirito sat down with their parents, Christopher and Jennifer, during a family dinner to discuss how COVID-19 is affecting their lives and to share their thoughts on volunteering for WiRED. The sisters came up with questions before dinner to ask each other and their parents. They recorded their answers during the dinner and then wrote the conversation down for this article.*

*WiRED notes that, unlike the Spiritos, many families in underserved areas of the world are experiencing hardships such as no shelter, food or health care. In Kisumu, Kenya, for example, WiRED's community health workers are facing COVID-19 assaults on the population, 100-year floods driving thousands into the streets, people living under tarps without toilets or bathing facilities. Then the locust hit the fields growing their food, so starvation is hitting young and old alike.
It is June, and we have been impacted by the presence of COVID-19 in the U.S. for three months now. What has changed about your life during this time?
Meghan: During the pandemic, I was taken out of school and had my spring crew season canceled. It was upsetting that I couldn't finish out the season with my senior boatmates. Over Zoom, we tried to stay connected even though those meetings never compared to being on the water. It was easier to handle everything, knowing that we were still together.
Olivia: I can relate, my most considerable change was being uprooted from college in the middle of the year. It was an incredibly difficult adjustment going from freedom and learning in lecture halls to living back at home and being taught over Zoom.
Chris: As odd as it may sound, this pandemic has made my life a bit easier as I have not had to travel anywhere and have been able to spend each day with my family.
Jenn: It has been challenging to adjust my psychotherapy practices to telehealth as the connection with clients is not as organic. The frequency of clients continuing with their therapy sessions has diminished. With that decrease, my income has significantly been affected.
Olivia: Have your colleagues experienced similar challenges as yourself in their practice?
Jenn: Yes, the adjustment to the pandemic for most of my colleagues has been a financial challenge with reduced caseload as clients seem to be avoidant of telehealth.
How has COVID-19 affected your social life and relationships with friends?
Meghan: It was quite easy to stay in touch with friends who actively participate in the relationship by face timing, texting or just checking in every so often. Quarantine has shown who my real friends are. I've also found myself reaching out to people I never get the chance to talk to very often.
Olivia: The pandemic has made it more difficult to keep in touch with friends from university. I have kept in touch with friends who live nearby and can continue building our friendships by seeing each other in a "socially distant" fashion.
Meghan: Do you feel you missed out on making connections with new people?
Olivia: Yeah, I just started finding my real friends at school, but through quarantine, I have figured which connections were the strongest.
Jenn: I agree, the pandemic has highlighted who my closest friends are in my life. The mindfulness of connecting via zoom or text has led to more frequent connections. Yet, some relationships have shown to be better served in person versus relying on technology for connection.
Chris: I have found that due to COVID-19, I have been communicating with more people more often than before the pandemic. Partly this is due to the use of teleconferencing through my work and now COVID-19 is an area of interest that everyone is interested in talking about, and this has ended up reconnecting me with high school friends.
Did you discover anything about yourself during the pandemic?
Meghan: I've learned to appreciate the small interactions in life, whether that be after-school life talks with my teachers, the pain of practice with my boatmates, or being able to sit next to my best friends at a football game.
Olivia: Initially, I thought online school was going to be easier than regular school since I could learn everything at my speed. However, the lectures felt longer than usual, and not being able to ask questions made the information more confusing to learn. I now recognize my best style of learning is in-person lectures and that I need to ask questions more often than I thought.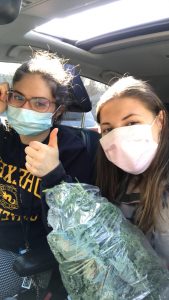 Chris: I discovered how much I enjoy having my family at home with me and how valuable having this time together is.
Olivia: What was your favorite family activity during quarantine?
Chris: Definitely playing scrabble.
Meghan: You mean me beating you every time, haha?
Chris: You wish.
Jenn: I have learned I am more of an introvert than I realized. I enjoy my friendships and extended family, but I find contentment in being home with my daughters and husband. I also realized how vital it is for me to be active and outdoors to feel grounded, centered and tuned into the world.
What has been an unexpected side effect of COVID-19?
Meghan: One positive is that the world was forced to take a break. With climate change quickly changing the world, everyone has to stay home and that has benefited the earth more than we realize. It's important to look at what nature is doing when we aren't active participants in the public and find ways to keep these positive trends going the way they are. I hope that this will open our eyes to the fact that if we stop polluting and destroying the earth that it will heal.
Jenn: The environment could heal from fewer cars and planes in motion, and nature seems more vibrant and present.
Olivia: So true! I was thinking the same thing. What would be your favorite quarantine memory?
Meghan: This is a good one! Let me look through my quarantine photo album… My favorite quarantine memory was making cookies for my senior rowers and writing them letters about how they're my role models to me and how much I love them.
Olivia: Aww, that's so sweet.
Meghan: They were basically love letters telling them I don't want them to leave for college and row without me, haha.
With COVID-19 plaguing the nation, how has your perspective of volunteering with WiRED International changed?
Meghan: My first assignment began when quarantine was only a concept and then we were suddenly adjusting to the new health guidelines. Starting with WiRED, writing about the perspective of COVID-19 through the eyes of my generation gave me a feel of what I can provide for WiRED as a teen.
Olivia: After observing the effects of COVID-19, I have a greater appreciation for the importance of public health initiatives, and I find my contributions to WiRED to be increasingly meaningful. The opportunity to help spread information regarding current public and global health events is imperative to inform the public.
Chris: Since I joined WiRED in 2008, we have responded to each world's health crisis one after another. While the COVID-19 pandemic has required a global response, the response from WiRED has always been to create modules for the people who need them in their time of need. I am proud of the work we do at WiRED, and it is great to have my whole family involved in our activities.
Meghan: What other health crisis did you respond to during that time of being a WiRED volunteer?
Chris: I remember responding to the Ebola crisis in particular and every crisis since I remember talking in detail with Gary [Selnow, WiRED's executive director] through each event.
Why is your volunteerism with WiRED unique to you?
Meghan: I was able to share the opinions of my peers and me on the pandemic and how we perceived the world. That being my first article, it gave me a unique and special bond with WiRED and what is to come through my volunteerism with them in the future. I thoroughly enjoy being able to share perspectives on issues like this, and knowing that writing these articles can help paint the bigger picture for readers is humbling.
Olivia: Do you feel empowered by your role at WIRED to spread health information to your peers better?
Meghan: Yeah, I do because I can share health information commonly discussed among adults but isn't shared with kids.
Olivia: Volunteering for WiRED has afforded me the opportunity to provide health-related information to communities globally. I believe health education is pivotal for communities to thrive and be successful. Being a part of a mission that contributes to the goal of health education is satisfying.
Chris: I spent almost 15 years working in health care and wanted to find a way to stay involved in the field of science. WiRED provided me with the opportunity to combine both areas of interest and continue my volunteer work, which started at the age of 14 at my local community hospital.
Olivia Spirito, age 19, has been a WiRED volunteer writer since 2017 and just finished her freshman year at Drexel University, where she majors in health sciences on an accelerated program path to get her doctorate in physical therapy.   
Meghan Spirito, age 16, joined WiRED as a volunteer writer in 2020. She is a rising junior in high school, who enjoys English, playing in multiple bands and being a student-athlete.
Jennifer Spirito is a Licensed Independent Clinical Social Worker (LICSW) who is in private practice. Her practice specializes in working with women beginning at the age of 17 to late adulthood in the areas of generalized anxiety, depression and adjustment disorders, bereavement/grief and relationship and marital issues. She is the proud mother to Olivia and Meghan.
Christopher Spirito is a WiRED Board member and volunteer. As a brilliant software developer, he has created a number of critical programs that have enabled WiRED to extend its reach into remote regions. Specifically, his computer work has made it possible for WiRED to deliver its health education programs to forgotten populations that otherwise would have no access to lifesaving information. He works as a Nuclear Cyber Security Consultant with Idaho National Laboratory.