WiRED Vaccinator Train-the-Trainer Launched in Uganda and Liberia
WiRED Planning to Roll Out Workshops in Additional Countries Globally
By Allison Kozicharow and Kristen Garabedian; Edited by WiRED Staff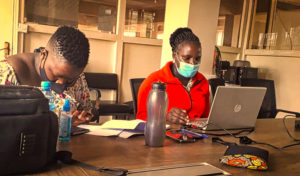 WiRED International launched the train-the-trainer portion of our Vaccinator Training Program (VTP) on July 6, when lead medical trainers in Kisumu, Kenya, communicated by Zoom with medical professionals in Naguru, Uganda. A participant in Liberia also joined the session. The purpose of the three-day workshop was to prepare medical professionals to use WiRED's VTP curriculum to train local vaccinators on how to distribute and administer COVID-19 vaccines scheduled to arrive later this year.
WiRED's Program Coordinator in Kisumu, Lillian Dajoh, said the workshops went as planned, with reliable Internet connections, good teaching and lively interactions between the medical professionals on both sides of the Zoom link. Several months ago, WiRED's trainers, using a World Health Organization (WHO) curriculum enhanced by WiRED, taught a class of 27 people how to serve as vaccinators. The recent workshop with Uganda was the first time WiRED's medical trainers prepared medical professionals elsewhere in Africa to be COVID-19 vaccination trainers in their local communities. This session thus completed trials of the two-step strategy WiRED has developed to prepare communities throughout low-income countries to distribute vaccines and administer them to large populations quickly.
Dr. David Okia, as senior doctor in Naguru, commented, "I must say I had a wonderful experience beyond my expectations as a participant. The course was timely and relevant to the current context, the facilitators were excellent, and content delivered was simplified and suitable even for those without a medical background. We will definitely use these modules for training our community health workers, and we plan to roll out this training to other health workers, such as enrolled nurses. Having benefited greatly from this training, I will definitely recommend it to colleagues, donors and other government institutions."
Andrew Auruku, the training coordinator in Naguru, said: "The training modules were easy to grasp and the trainers were well informed and managed the training well. The material was logically supported by animations and illustrations, charts and videos that were embedded in the modules. The trainers allowed time for questions from us . . . We want the training to reach a large number of last mile community health workers who are being prepared to support the rolling out of COVID-19 vaccinations. I have already recommended the course to my regional District Health Officers to have this training for the Village Health Teams."
In addition to studying the curriculum, the group enjoyed sharing recent experiences working with disease prevention and treatment measures related to COVID-19. These medical professionals had never met before this training workshop; they found it helpful to examine healthcare practices and problems faced in each other's communities.  Apart from this COVID-19 vaccinator training, WiRED recognizes the value of connecting medical communities throughout Africa for occasional informal sessions, perhaps to focus on a particular illness or to share general information about local medical practices.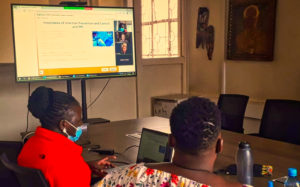 Next steps in this program to train vaccinators include an upcoming session with 18 medical professionals in Liberia and then many other communities throughout Africa and Latin America. WiRED's principal concern is that in many underserved regions, vaccines will arrive, but not enough trained staff will be available to safely move the vaccines to the countrysides and to administer the shots to the people. This hybrid IT/in-person training strategy uses a best practices approach to present a rigorous WHO-based curriculum, to train medical professionals how to use it via Zoom, and then for in-country professionals to train local vaccinators face-to-face.
WiRED wishes to thank the Hodge Family for its generous support
of this vaccinator training program.
Rationale for WiRED's VTP approach
Africa, Latin America and other locations where WiRED plans to roll out this program will eventually receive vaccines from COVAX and other suppliers, but nearly all low-income countries lack enough doctors and nurses to administer those vaccines. The WiRED vaccinator training program — based on a WHO curriculum — prepares people without a medical background to deliver the vaccines to communities and the shots into the arms of local people. As specified by WHO, WiRED trains people how to:
Move the vaccines, observing cold storage protocols
Set up shot clinics
Teach the community about COVID-19 and the importance of vaccinations
Administer the vaccinations
Monitor patients for an adverse event following immunization (AEFI)
WiRED's training strategy is a two-step process: First WiRED's lead trainers connect via Zoom to train medical professionals in recipient countries. Second, those medical professionals — who understand local customs, know the local languages, are familiar with local medical conditions and resources — train the vaccinators. These trained vaccinators will work in teams, supervised by a doctor or nurse. The teams will prepare communities with information about COVID-19 and the benefits of vaccinations, then arrive to arrange vaccine clinics and administer the jabs.
Medical teams in Kenya and Uganda
WiRED's staff in Kenya — Lillian Dajoh (Program Coordinator), Eric Achola (Administrative Specialist) and Lead Trainers, Winnie Nafulu and Alice Okuku — led the VTP sessions.  Andrew Auruku (organizer in Uganda), Dr. David Okia, Emmanuel Ekanga and Isaac Felix Edimu were at the other end of the Zoom training in Naguru, Uganda. John Duco, in Monrovia, Liberia, attended one session, but had to discontinue because of adverse conditions in his city.