WiRED CHIC staff member works with traditional healers in the Masai region of Kenya
In celebration of our 25th anniversary, WiRED is pleased to bring you stories from our archives. These articles provide a glimpse of WiRED's early work as they depict the places and the projects we have focused on over the years.
In the late 1990s, HIV/AIDS continued to frighten and mystify. 
It lashed out at populations around the world, but it hit communities in Africa especially hard.
Two decades ago, that line opened our story describing WiRED's early programs to provide Kenyans with information about HIV/AIDS. With a developmental grant from the U.S. National Institutes of Health, we launched a project that would eventually outfit 24 Community Health Information Centers (CHICs) across this East African country. These free-to-everyone, drop-in facilities used computers to dispense the training material; this computer-delivered health training strategy was a first for population-wide health education. The CHIC concept was a remarkable success, and it became a model we have rolled out in other low-resource countries.
In the early 2000s, computers were a mystery and a marvel to most populations around the world, including those in the Kenyan countryside. When people came to see and touch the computers, the staff took the opportunity to introduce them to the facts about an unspoken plague ravaging their population. The training programs described the horrors of HIV/AIDS, while never failing to offer hope through messages of prevention. Over time, these centers expanded their holdings to many other health topics and became the go-to libraries for information about HIV/AIDS but also about nutrition, mother and child health, infectious diseases and hundreds of other health issues.
This is the first in a series of archived stories we will present about WiRED's extensive work in Kenya. Today's story looks at the origins of our work to address the withering HIV/AIDS plague that devastated so many communities throughout Africa. 
Shared Vision Brings WiRED to Kenya
From the moment Kenya gained independence in 1963, local and national leaders have envisioned a day when the country could finally eradicate poverty, ignorance, and disease. Leaders then and now realize that any real progress against any one of these three tightly interwoven challenges requires simultaneous progress in the other two areas as well.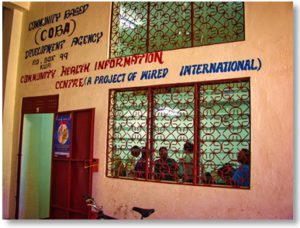 In 2001, WiRED became an ally in Kenya's fight against poverty, ignorance, and disease. WiRED's mission-to provide information and communication resources to disadvantaged people around the world-fits perfectly with Kenya's long-held vision and its present day needs. The use of computer technology to provide healthcare information reduces ignorance surrounding AIDS, HIV infection, and other diseases. Consequently, people are able to take better care of their health and adopt lifestyles that prevent many serious illnesses. Improved health allows individuals to lead more productive lives and to provide a better standard of living for their families.
Individuals and groups have many personal accounts that demonstrate how the health information offered by WiRED's Community Health Information Centers (CHIC) has touched them in one way or another.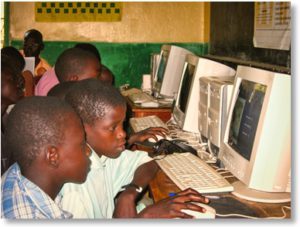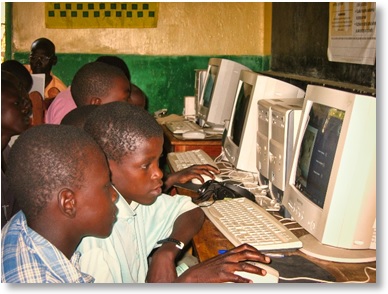 In Kilifi a young laboratory technician, Edwin Mwayongo, used to spend his spare time idly at the beach; now in his spare time he goes to the Center to review CHIC information sources to keep informed on medical innovations in his area of work. With this knowledge, he hopes to upgrade his education from his present certificate level to a diploma or even a degree. Edwin says, "The Center is a godsend. I view it as a way to keep current in my field and as preparation for more formal education; once I find the funds, I will go back to school with clear learning goals in mind."
In Kajiado, a Maasai dominated area, traditional birth attendants visit the Center regularly to get information on home deliveries and on other diseases like HIV/AIDS and STDs. Two of the women, Elizabeth Nanka, 70 years old, and Noronkonto Olombayie, 68 years old, walk 15 kilometers from their homes to the Center just to get information. The women, who look much younger than their ages, say that they love their work so much that they don't mind walking the long distance to the Center to learn all of the useful information.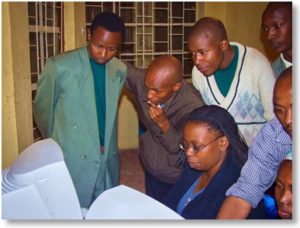 One of the simple procedural steps they have learned is to wear gloves while delivering a baby. They explain, "Before coming to the Center we didn't know it was important to wear gloves during delivery. Now we know that we must wear gloves to protect ourselves from HIV/AIDS and to avoid passing diseases to the mother and infant during delivery."
In addition to the individuals who benefit from CHIC information, many groups are finding the Center resources valuable. The coordinator of the Kisumu CHIC, James Ouko, explains, "Lecturers at the Tropical Institute of Community Health use our information resources to find details on alternative medicine, particularly on massage therapy. They use the details they find at the Center to prepare lessons for classes at the Institute."
Dr. Yosa, a general practitioner in a private clinic, recently came to the Center to get information for a presentation to an HIV/AIDS workshop for medical personnel. He found images and other information that he could download from the CD-ROM collection to clarify and strengthen the points in his paper. After completing his review of the resources at the Center Dr. Yosa admitted to the staff, " I didn't think I would get the information I needed, but the details I found will help me to give a more thorough presentation for the upcoming AIDS workshop."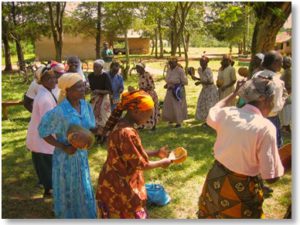 Since the government declared HIV/AIDS a national disaster in 1999, all public administrators are required to regularly inform communities in their jurisdiction of issues pertaining to HIV/AIDS. However, most of these administrators are not trained in the medical field and are not well informed on HIV/AIDS. They welcome the new Centers and the reliable, easily accessible information.
The district officer in charge of all administrative issues for Butula Division has requested that the Centers remain open some evenings during the week so that he and the education officer for the area can access information that they can pass on to the community during public meetings.
These brief examples indicate the impact CHICs are having in the communities they serve. The current number of Centers only begins to address the critical need for HIV/AIDS and other health information throughout Kenya. The need for more Centers in other parts of the country cannot be overemphasized. An expanded network of Centers will give Kenya a powerful tool to use in reaching for that long-held vision-a nation free from poverty, ignorance, and disease.
Several years ago, WiRED's Executive Director, Dr. Gary Selnow, wrote a series of essays presenting some of our history. The following piece describes the start of WiRED's Kenya project, designed to test the capacity of computers to teach people about health. The project was funded by the U.S. National Institutes of Health.

WiRED Launches Its Community Health Information Centers
in Kenya
BY WIRED DIRECTOR GARY SELNOW, PH.D.

Preamble
In the late 1990s, HIV/AIDS continued to frighten and mystify. It lashed out at populations around the world, but it hit communities in Africa especially hard. Entire villages were wiped out; in many places, only the very young and the very old survived, with the middle carved out by a disease most people could not understand. This cruel and seemingly indiscriminate illness rendered its victims frail ghosts of their former selves, symbols of an evil in towns throughout the African continent. While in the United States and Western Europe, AIDS was initially known as a gay disease, in Africa, the devastation to both men and women alike suggested to many that some other curse was at work.