In celebration of our 25th anniversary, WiRED is pleased to bring you stories from our archives. These articles provide a glimpse of WiRED's early work as they depict the places and the projects we have focused on over the years.

WiRED Receives Public Health Hero Award
by Annie Stuart

The University of California, Berkeley, recently selected WiRED International as the School of Public Health's 2009 Organizational Public Health Hero. Berkeley recognized WiRED for "its achievements in using information technology to provide up-to-date health education and medical information to individuals in developing, post-conflict, and isolated regions of the world."
The Public Health Heroes award, established in 1996, seeks to broaden awareness and understanding about public health issues. The award recognizes distinguished achievement by individuals and organizations making significant contributions in advancing the health of the human population.
Previous organizational heroes include the International Medical Corps for providing medical relief in the world's most poverty-stricken, remote and dangerous environments, and Kaiser Permanente for its nationwide provision of integrated health services.

2009 Public Health Heroes
Each year, Berkeley gives its Public Health Hero award to one organization and three individuals. WiRED and the following individuals will receive the award in San Francisco at a reception on March 18, 2009, at Yerba Buena Center for the Arts:

WiRED International, for its contributions in using information technology to provide up-to-date health information to individuals in developing, post-conflict, and isolated regions of the world.

WiRED's facilities have, over time, served some one million people at nearly 100 information centers located in 12 countries on four continents. WiRED's Medical Information Centers supply isolated doctors and other healthcare professionals with computers, Internet access, video communication and other technology. WiRED also provides out-of-the-way medical communities access to medical curricula and collaboration with well-trained doctors in developed countries. WiRED's Community Health Information Centers connect people at the grassroots level to interactive computer-based information – often the only source of health information available to them.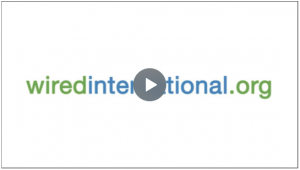 WiRED believes that no medication or medical device can do as much to promote good health in remote regions as can a doctor's knowledge of good medicine. In addition to helping bridge the information gap, WiRED operates on the philosophy that its Centers should help promote reconciliation in conflicted communities through local collaboration and equal access.
Watch the award ceremony video >

Berkeley Public Health Hero Individual Awards


Paul Farmer, M.D., for his dedication to treating some of the world's most impoverished populations. Medical anthropologist and physician, Dr. Farmer is the Maude and Lillian Presley Professor of Medical Anthropology at Harvard Medical School, as well as the medical director of a charity hospital in rural Haiti, called the Clinique Bon Sauveur. He is a world-renowned authority on tuberculosis treatment and control and the subject of Tracy Kidder's New York Times bestseller, Mountains Beyond Mountains.


John E. Wennberg, M.D., for his leadership in finding ways to reduce costs and improve the efficacy of the U.S. health care system. Dr. John E. Wennberg is the Peggy Y. Thomson Professor (Chair) for the Evaluative Clinical Sciences and founder and director emeritus of the Dartmouth Institute for Health Policy and Clinical Practice at Dartmouth Medical School. Through four decades of work, Dr. Wennberg has documented the geographic variation in healthcare that patients in the U.S. receive. Dr. Wennberg is the founding editor of The Dartmouth Atlas of Health Care, which examines patterns of medical resource intensity and utilization in the U.S.


Betty Moore, for her contributions to improving the quality of nursing care and the nursing workforce in California. Betty Moore and her husband, Gordon, established the Gordon and Betty Moore Foundation in September 2000 to contribute to projects in the areas of environmental conservation, science, and the San Francisco Bay Area. Mrs. Moore provided the vision and leadership for a 10-year nursing initiative to improve patient safety and outcomes through nurse-led programs in acute care hospitals within the five San Francisco Bay Area counties.