A Thanksgiving Message from WiRED International
Health Vigilance during Rise in COVID-19; New WiRED Module on Food Safety
By: Allison Kozicharow; Edited by Elizabeth Fine
WiRED International's board and volunteers wish you a happy and healthy Thanksgiving.
This American holiday is about sharing, and this year that must include the sharing of good health practices as COVID-19 cases and deaths are increasing everywhere at an alarming rate. Counter to the large celebrations we have come to expect at Thanksgiving, people this year are wise to avoid gatherings of more than a few close family members, to maintain social distance, to wash hands often and to wear a mask.
While we give thanks for the blessings in our lives, we also remember the people in need who live in our own communities and around the world. For the fortunate, Thanksgiving means a bountiful meal, but for far too many living in underserved communities this day and every day lead to starvation from food scarcity and to diseases from food contamination.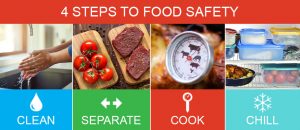 WiRED just released a health learning module on Food Safety. The module describes foodborne diseases (also called food poisoning), strategies for preventing pathogenic bacteria from causing illness, how to follow safe food handling practices, modes of transmission and symptoms. People at higher risk for developing foodborne issues include pregnant women and their unborn babies, newborns, young children, older adults and people with weakened immune systems.
Thanksgiving is a time to reflect and plan on how we can use our time, talents and resources to help people who face hunger, dislocation and illness. To everyone who has made our programs possible, and to everyone who has used them to improve their own health and the health of their communities, we at WiRED send you our sincere best wishes during this season of thanks.
Four Simple Steps for Food Handling and Preparation at Thanksgiving and at Anytime
Clean: Wash your hands with warm water and soap for 20 seconds and wash surfaces often with hot, soapy water.
Separate: Keep raw meat, poultry, and seafood away from ready-to-eat foods, fruits, and vegetables.
Cook: Cook food to safe temperatures to kill the harmful bacteria that cause foodborne illness.
Chill: Place leftovers in the refrigerator or icebox within 2 hours at 5° C/41° F or below; within 1 hour if room temperatures are above 32.2°C/90 F. Refrigerate foods quickly, because cold temperatures slow the growth of harmful bacteria.