Violet Grgich Joins WiRED's Governing Board
Continuing in Tatjana Grgich's Footsteps
By: Allison Kozicharow; Edited by Jessie Crowdy
WiRED International is pleased to welcome Violet Grgich to the WiRED Governing Board. Tatjana Grgich, Violet's mother, director of the Tatjana Grgich Family Foundation, served as WiRED's first board member and continued to guide and support WiRED throughout her lifetime.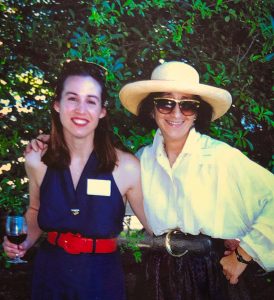 Ms. Grgich said, "My mother founded the Tatjana Grgich Family Foundation because she cared deeply about the health, well-being and education of all people, and believed that world peace could be achieved if people shed politics and focused on what was universally important to all human beings. A devout Catholic, she was devoted to the Virgin of Medjugorje and her message that love and prayer could change the world. I am honored and humbled to continue her legacy, of which WiRED was such an important part."
Ms. Grgich is the President and Co-Proprietor of the Grgich Hills Estate, a Napa Valley winery, where she grew up. Her father, Miljenko "Mike" Grgich, and her mother emigrated from Croatia and finally settled in California in the mid-1950s. A world famous winemaker, Mr. Grgich won international recognition when his 1973 Chateau Montelena Chardonnay was chosen as the finest white wine in the world, beating French wines for the first time at the "Judgment of Paris" blind tasting in 1976.
In college, Ms. Grgich earned a B.A. in music at the University of California, Davis, and also took courses in biology, chemistry and enology. After graduation she returned home to learn all aspects of the wine business, working at every position from the bottom up. Additionally, during this time, she graduated with a master's degree in music at Indiana University, before joining the winery full time.
Ms. Grgich follows her grandfather's and father's philosophy: "Every day do something just a little better." WiRED Executive Director Gary Selnow, Ph.D., said, "Tatjana Grgich was a lodestar for WiRED's development from the earliest days and continued to serve as an influential board member over the past two decades. We are pleased to welcome Violet to our board to continue the Grgich legacy and to add her experience and expertise to the blend of talents that enable WiRED to improve the health of people in low-resource communities around the world."