Special Giving Tuesday in Response to COVID-19
An Opportunity to Support WiRED International
By: Allison Kozicharow; Edited by Jessie Crowdy
GivingTuesday, a global generosity movement, is launching a special day of unity to take place on May 5, to address urgent needs caused by COVID-19. People are encouraged to donate to organizations dealing with the severe impact of the virus.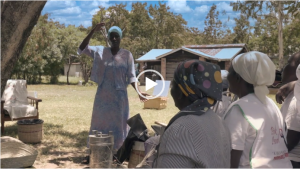 In this sense, WiRED has been swift to move, creating earlier this year an entire COVID-19 package called "The Coronavirus Threat: Key Topics in Infection Control." We converted what began as a classroom training program into a long-distance learning system covering the coronavirus and related respiratory ailments.
Also, WiRED's just released video on our Community Health Worker Training Program (see sidebar) shows how we're about to teach medically deprived communities to prepare for a range of infectious diseases such as COVID-19 and to apply science-based knowledge to combating these illnesses.
COVID-19 has dealt a particularly cruel financial blow to small nonprofits, who struggle to stay afloat in the best of times. WiRED International is humbly asking for your help.

We pledge to use your money wisely, honestly and efficiently as we continue our work to provide life-saving health education in low-resource regions. We invite you to join us as we strive to raise the quality of health knowledge and to head off illness in remote communities worldwide.
Why donate to WiRED International?
Donating to WiRED International would help us to continue to bring vital medical and health education, free of charge, to underserved communities around the world, especially now when they are most at need.
Here are 10 reasons to consider a contribution to WiRED:
Because we are volunteer driven, 95% of your donation will go directly to our programs.

Your donation will fund health education in underserved and forgotten regions of the world.

We never charge a cent for our materials. Yes, they are all FREE to be studied online or downloaded to smart phones, tablets and laptops.

We offer hundreds of free access modules on infectious and noninfectious diseases and many series on topics such as mother and child health, HIV/AIDS, cancer and diabetes. Many of our courses are translated into languages such as Spanish, Mandarin, French and Armenian.

Our evidence-based training courses are doctor-written and peer reviewed and based on guidelines from the World Health Organization and Centers for Disease Control and Preventions.

WiRED has been in operation for almost 25 years — way past the lifespan of most nonprofits of our size. We started our work in war-ravaged towns throughout the former Yugoslavia and went on to establish centers in Iraq, East Africa, Central America, Armenia and more.

Today, our geographic reach has expanded to the entire world. Programs once available as hand-delivered modules can now be downloaded and shared by communities anywhere on earth.

We deliver our content through our own innovative technology, which includes the Health Module Access Program (HealthMAP) with apps for Android, Windows and Macs.

Our Community Health Training Program is WiRED's new, ambitious project to train community health workers to fill the gap in areas where there are fewer than one doctor per 20,000 people. Read more about our program and its curriculum

here.
We respond quickly to emerging diseases by creating modules almost overnight. WiRED was the first to offer a health education module on Ebola, soon after the virus emerged in 2014, and we created a module on Zika in 2015 — and, most recently, we made coronavirus education modules available for the world in January, before most people had ever heard of the disease.