Update from WiRED's Community Health Workers in Kenya
Addressing Local Health Concerns
By Allison Kozicharow; Edited by Elizabeth Fine
WiRED International reports that during the month of January 2022, 11 community health workers (CHWs) in Kisumu, Kenya, reached a total of 5,143 people with health services. HIV/AIDS was the primary concern, followed by COVID-19, handwashing, mental illness, hypertension, water treatment, diabetes and malaria. Working 24 hours per week, each of the 11 CHWs met with at least 39 patients a week, and the largest number seen in a week by a single CHW was 180, most of them in health training classes.
CHWs need to be knowledgeable about countless diseases and health issues. As an example, here is a list of 36 health topics Kenyan CHWs faced in the month of February.
Anatomy
Cancer
Child Growth & Development
Cholera
Chronic Diseases
Common Cold
COVID -19
Diabetes
Diarrhea
Drug Abuse
Early Pregnancy
Family Planning
First Aid
Food & Nutrition
Gender-Based Violence
Handwashing
HIV/AIDS
Hygiene
Hypertension
Injury
Malaria
Measles
Mental Health
Mental Illnesses
Mother & Child Health
Patient Assessment
Pneumonia
Reproductive Health
Sexually Transmitted Diseases
Skin Cancer
Spinal Diseases
Stress Management
Stroke
Trauma
Urinary Tract Infection
Water Treatment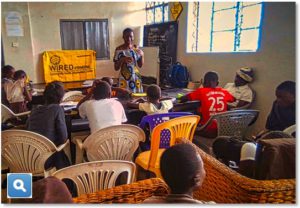 Last year WiRED began training CHWs in Kenya, India, Nicaragua and Peru, using a World Health Organization-compliant curriculum. The 140-hour course covers health basics, infectious and non-communicable diseases, patient assessment, clinical issues, health teaching and surveillance. Students who successfully complete a comprehensive final exam are awarded a certificate confirming course completion.
All community health workers are required to earn 50 continuing medical education (CME) units) to maintain their certification. This CME program enables CHWs to reinforce their knowledge and learn new skills. They stay current on scientific findings, the latest diagnostics and treatments for health conditions that may impact their communities.
The number of people these CHWs have been able to assist reinforces WiRED's belief that because CHWS are trained locally, they become trusted members of their society, where they and the population alike become responsible for their own health. WiRED's mission has always been to bring vital health education and training to communities and local non-governmental organizations, but then let them take the wheel.