WiRED Mourns the Loss of Father Hans Burgman
Founder of the Community Health Programme in Kisumu, Kenya
By Allison Kozicharow; Edited by Elizabeth Fine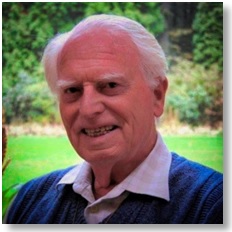 WiRED International's board of directors and volunteers are deeply saddened by the death of Father Hans Burgman (1928-2022) at age 93. Fr. Burgman founded the Community Health Programme (known as KUAP-Pandipieri) in Kisumu, Kenya, in a facility also housing a WiRED community health information center.
Fr. Burgman was born in Hengelo, the Netherlands, and was ordained as a Mill Hill parish priest in 1952. His studies as a Catholic missionary took him from Holland to England and Italy, and he received a doctorate in philosophy in 1957 from the Pontifical Gregorian University in Rome. Having also studied music, Fr. Burgman was an accomplished musician of the organ, guitar and flute.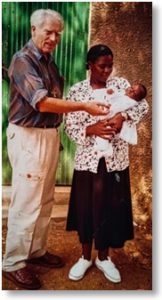 In 1977 Fr. Burgman began work in a slum area of Kisumu, Kenya, on the shores of Lake Victoria, where he tended to the poor and sick and established the KUAP-Pandipieri program to improve and elevate community health. In 2002, WiRED launched its programs in Kenya by setting up computers to provide health information, starting with HIV/AIDS education and currently offering community health worker training from more than 450 modules on diseases, health and wellness. 
Wherever he went, Fr. Burgman made it a priority to learn the local languages, cultures and customs. Indeed, by the time he retired he could converse in his native Nederlands, English, German, French, Italian, DhoLuo, Luganda as well as in Greek and Latin. Tall in stature and whole-hearted in his dedication to his mission, he won the admiration of so many within and outside Kisumu.
Struck by illness in 2017, Fr. Burgman retired to his native Holland after leaving behind a lasting and inspirational legacy.