WiRED Mourns the Loss of
Tatjana Grgich
Philanthropist, WiRED Board Member
By: Allison Kozicharow; Edited by Elizabeth Fine
WiRED International's board of directors and volunteers are deeply saddened by the death of Tatjana Grgich, nee Cizmic, on September 2, 2020. She passed away peacefully at home with her family by her side. Mrs. Grgich served 30 years as president of the Tatjana Grgich Foundation, which assisted youth from Croatia and other conflict-torn areas of the world. She was also a founding member of WiRED.
WiRED Executive Director Gary Selnow, Ph.D., said, "Twenty-three years ago, the American Embassy in Zagreb suggested that I contact a woman in Napa, California, concerning an NGO I was thinking about setting up. And so, when I got back to the States, I reached out to Tatjana Grgich, who was running a small family foundation dedicated to helping poor children.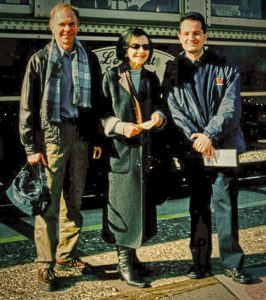 "I met with Tatjana often to discuss operating an NGO, the future WiRED International, in the former Yugoslavia; many years ago, she and her husband, Miljenko "Mike" Grgich, had emigrated from Croatia and knew the region well. She warned me to stay politically neutral and to focus on the people, address their needs, because their needs would be the same no matter which political system they lived under. I took that advice as we set up our programs in each of the former Yugoslavian countries. We then carried her advice with us to other countries, to other continents. Tatjana helped set WiRED's focus on the people. She became our first board member and has remained a strong supporter and kind of godmother ever since."
Born in 1928 in Zadvarje, Yugoslavia, Mrs. Grgich and her husband finally settled in California, in what would become the Grgich Hills Estate winery. A world famous winemaker, Mr. Grgich won international recognition when his 1973 Chateau Montelena Chardonnay was chosen as the finest white wine in the world, beating French wines for the first time at the "Judgment of Paris" blind tasting in 1976.
Ms. Grgich's foundation supports numerous and diverse local and national charitable organizations that sustain projects, programs and services that assist youth from strife-torn areas of the world. Since 1986 she served on the Board of Regents of The Catholic University of America in Washington, DC., and as benefactor and board member of the Pacem in Terris (Peace on Earth Institute) at LaRoche College in Pittsburgh, PA. Aside from her philanthropy, Mrs. Grgich was known for her Croatian specialties such as her famous "Cheese Sticks" and for her love of photography.
Mrs. Grgich is survived by her daughter Violet Grgich (husband Colin Shipman), her grandson Noel Grgich-Shipman, her sister, Vjekoslava Cizmic Sturmer, and many nephews and nieces both in the U.S. and Croatia.
"Tatjana helped WiRED navigate the risky environment of the former Yugoslavia. Little did we know then that her guidance would carry forward to our programs over the next two decades, enabling us to work in locations where careful ideological neutrality has been essential. Avoiding the traps of politics and divisive philosophical beliefs allows us to concentrate on the health needs of grassroots populations. As Tatjana said, human needs and problems are universal, a successful NGO must never lose sight of that. I trust we never will." 
– Gary Selnow
A Personal Memory of Tatjana Grgrich
by WiRED Board Member Suellen Crano, Ph.D.
In WiRED's infancy, there was a first board meeting held at the Donatello in San Francisco. We had few programs and lots of dreams. And the last hour of the board meeting was spent drinking Grgich wine — Tatjana had brought a case! She and I bonded as the women on the board.
She told my husband, Bill, and me that whenever we were up in Napa to come and visit. We were passing through in August 2007 on our way to celebrate Bill's birthday, and we passed right by the winery — we turned around and stopped by to see if she was there. She greeted us when we entered with a big hug and kiss. We had a wonderful visit that I'll never forget.
Tatjana would always talk about how working with WiRED was one of the most important things in her life and made her feel good, and how much she liked having a sister board member. We communicated every once in a while — especially when Bill and I were heading to Croatia, and she would always give us travel advice. We even went to the Grgich winery there near Ston, Croatia. I will miss Tatjana. She was a powerhouse in her prime, and an avid supporter until the end.