WiRED Releases First Installment of Comprehensive Web Story Timeline
Examine WiRED's History through Our Stories
By Allison Kozicharow; Edited by Elizabeth Fine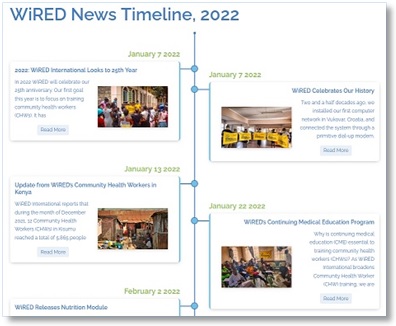 Exciting news! WiRED International staff and volunteers are working on a timeline covering all of our stories year by year since the first website postings in 1999.
Each year's timeline will show clickable stories, illustrated by colorful thumbnail photos or graphics.
Witness our organization's evolution from early days when WiRED provided internet connections in war-ravaged towns in the former Yugoslavia to today, when WiRED offers community health worker training and continuing medical education to anyone anywhere in the world.
What hasn't changed is WiRED's mission to improve health literacy and enhance the health of people in underserved communities by offering them educational tools and programs — free of charge.
Here is a sample of news stories from the year 2016:
Alarm Grows over Link between Zika Virus and Microcephaly
WiRED International Releases Zika Module for Community Health Workers as Zika Crisis Grows
WiRED International in Kenya Connects Homeless Teenager to Health Education
WiRED International Interviews Michael Constantine
WiRED Releases Update of Rheumatic Heart Disease Module for Students
WiRED Launches Update of Rheumatic Heart Disease Modules for Teachers
WiRED Team Reports from Armenia
WiRED Launches Yellow Fever Module Amid Outbreak in Africa
WiRED International Launches Electronic Medical Record System in Peruvian Amazon
WiRED Creates "Everything you need to know about mosquitoes" Webpage
Sixty-Two Kenyans Graduate from WiRED International's Certificate Program
WiRED International Warns: Polio Still Lingers
Working back through time, our team has completed entries for several years and expects to have the complete WiRED news timeline up and running before Thanksgiving this year. Stay tuned for the announcement!